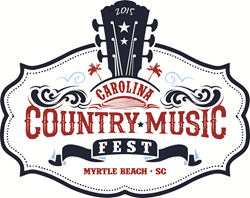 Enjoying live country music with the ocean in the background on a seasonable June summer night; it can't get much better than that.
Myrtle Beach, S.C. (PRWEB) March 03, 2015
Vacation Myrtle Beach, an exclusive hotel sponsor, is offering special accommodations and ticket packages for the first-ever Carolina Country Music Fest from June 5-7.
The inaugural three-day outdoor festival will bring 35 country acts to the Myrtle Beach Boardwalk area. National recording artists Rascal Flatts, Lady Antebellum, Eric Church, Big & Rich and Hunter Hayes will perform. The next major announcement takes place in early March as more large acts are revealed for the Southeast's largest country music festival.
"The family-friendly festival will be a great addition to the summer line-up of events taking place in Myrtle Beach," said Matt Klugman, Vacation Myrtle Beach marketing director. "We're very excited to see such big acts taking the stage in Myrtle Beach. Enjoying live country music with the ocean in the background on a seasonable June summer night; it can't get much better than that."
Guests purchasing festival tickets receive a special discount when buying from Vacation Myrtle Beach – more than $10 off when purchased a la carte and more than $20 off when purchased in conjunction with a room reservation.
Vacation Myrtle Beach is also offering guests up to 25 percent off an array of 14 resort accommodations up and down the beach where guests can choose from rooms, suites and condos.
Amenities at Vacation Myrtle Beach resorts range from an oceanfront waterpark to putt putt to lazy rivers, whirlpools and on-site dining, allowing guests to have a fun vacation during the festival weekend.
Vacation Myrtle Beach will be announcing the next major acts for the festival in early March via its Facebook page and website. Discounted tickets and room packages can be purchased here.
About VacationMyrtleBeach.com Resorts
VacationMyrtleBeach.com is the official vacation site of Myrtle Beach, S.C., offering the guaranteed lowest rate on nearly 4,000 accommodations units ranging from studios and efficiencies to one bedroom suites and two, three, four and five bedroom condominiums. VacationMyrtleBeach.com resorts also offer a wide range of amenities including pools, water parks, lazy rivers, whirlpools, on-site restaurants, oceanfront pool bars, bowling center, tennis center, racquetball courts, fitness rooms, miniature golf course and even South Carolina's first swim-up pool bar. VacationMyrtleBeach.com is the online home to reserve your place for fun in the sun. For more information call 866-232-1920.