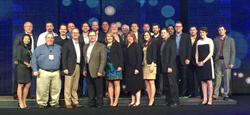 To win this award for the fourth time is a testament to Graphics Systems' commitment to the success of their customers.
Milwaukee, WI (PRWEB) March 03, 2015
Graphics Systems Corp., a leading provider of 3D engineering solutions, was named the Top SOLIDWORKS Subscription Provider in North America at the SOLIDWORKS World 2015 Awards Banquet in Phoenix, AZ on February 11, 2015. This award, presented by SOLIDWORKS Dassault Systèmes, is awarded annually to the SOLIDWORKS provider with the largest percentage of customers who renewed their SOLIDWORKS licenses. Through continued world-class customer service, over 96 percent of Graphics Systems customers renewed their software subscriptions with Graphics Systems in 2014. This is the company's fourth time receiving this award.
"We're proud to honor Graphics Systems Corp. as the Top SOLIDWORKS Subscription Reseller in North America," says Ken Clayton, vice president of worldwide sales professional channel for Dassault Systèmes. "Their passion for customer service and support consistently ranks them among our top resellers. To win this award for the fourth time is a testament to Graphics Systems' commitment to the success of their customers."
Dave Kasinskas, president of Graphics Systems Corp., credits customer support for this recognition. "We sincerely thank our customers for their loyalty, as this award would not be possible without them. That over 96% of them choose to renew their subscriptions through us speaks volumes to the level of support and service they receive. The need for a higher level of support from a reseller is the reason we started the company 25 years ago."
Graphics Systems Corporation received additional recognition for their commitment to customer service excellence. For the 11th consecutive year, Graphics Systems was awarded the "Elite 190 Club Award" which signifies that a value-added reseller exceeds the highest standards for customer retention, subscription support renewals, and software support for first-time users. Graphics Systems was also named to the "President's Club" for their efforts in re-enrolling 100's of customers in their support and software maintenance programs.
SOLIDWORKS offers complete 3D software tools that let you create, simulate, publish, and manage your data. SOLIDWORKS products are easy to learn and use, and work together to help you design products better, faster, and more cost-effectively. The SOLIDWORKS focus on ease-of-use allows more engineers, designers and other technology professionals than ever before to take advantage of 3D in bringing their designs to life.
About Graphics Systems
Graphics Systems Corp. assists companies in implementing 3D engineering capabilities for design, simulation, data management, technical documentation, and 3D printing. A local engineering technology expert since 1989, Graphics Systems Corp. partners with companies in Illinois, Wisconsin, and Michigan to improve product design and engineering efficiency.
Graphics Systems is the Midwest's leading provider of Dassault Systèmes SOLIDWORKS and Stratasys solutions, consulting, support, and training. Their world-class team of dedicated professionals provide thousands of companies with unparalleled sales, service, training, and support.
For more about Graphics Systems and to learn more about our support offerings, please visit our website, http://www.gxsc.com, or call 800-454-2233