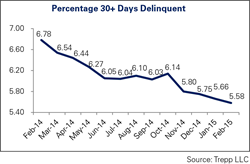 February's near record low liquidation volume established somewhat of a floor on the delinquency rate, but new issuance and a good amount of cured loans helped push the rate down yet again."
New York, NY (PRWEB) March 03, 2015
Trepp, LLC, the leading provider of information, analytics, and technology to the CMBS, commercial real estate, and banking markets, released its February 2015 US CMBS Delinquency Report today (available at http://www.trepp.com/knowledge/research).
The Trepp CMBS Delinquency Rate decreased again for the fourth straight month in February. The delinquency rate for US commercial real estate loans in CMBS is now 5.58%, down eight basis points month-over-month and 120 basis points from the year-ago level. This is the 20th monthly drop in the past two years.
CMBS loans that were previously delinquent but paid off either at par or with a loss totaled about $550 million in February, which is a steep decrease from $1.2 billion in January. Over $700 million in loans were cured last month, but almost $1.5 billion in loans became newly delinquent in January. Thanks to the addition of newly seasoned CMBS 3.0 deals, the Trepp CMBS universe grew by about $4.5 billion, which helped further alleviate the upward pressure put on the rate.
Trepp Research Associate Joe McBride said that "February's near record low liquidation volume established somewhat of a floor on the delinquency rate, but new issuance and a good amount of cured loans helped push the rate down yet again."
The lodging sector, which has been the best performing major property type since July 2014, saw its rate increase by 11 basis points to 4.51% in February. The retail delinquency rate saw the largest decrease last month, with a 22-basis-point drop to 5.38%. Multifamily loans remain the worst performing property type despite a 16-basis-point improvement to 8.65% in February.
New issue pricing levels were close to the best levels of the year at the end of February. "A steady stream of maturing loans will continue to bolster new origination and issuance through the rest of 2015," added McBride.
For additional details, such as delinquency status and historical comparisons, request the February 2015 US CMBS Delinquency report at http://www.trepp.com/knowledge/research. For daily CMBS commentary, follow @TreppWire on Twitter.
About Trepp
Trepp, LLC, founded in 1979, is the leading provider of information, analytics and technology to the CMBS, commercial real estate and banking markets. Trepp provides primary and secondary market participants with the web-based tools and insight they need to increase their operational efficiencies, information transparency and investment performance. Trepp serves its clients with products and services to support trading, research, risk management, surveillance and portfolio management. Trepp is wholly-owned by dmg b2b, a division of the Daily Mail and General Trust (DMGT).