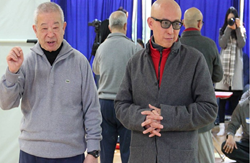 It was so educational and enlightening to see the world in different light that Zen meditation can open and cultivate our cosmic energy channels in such a way we can tap into the inner wisdom of ourselves and that of the Galaxy.
Atlanta, GA (PRWEB) March 05, 2015
The Shaolin Chan Foundation featured Grand Master WuBin's Internal Kung Fu for Health and Wellness at Atlanta Shaolin Institute along with Grandmaster Shi DeRu on Feb 14th 2015 on 4350 Peachtree Industrial BLVD, Suite 500A, city of Peachtree Corners, Georgia. The event was sponsored by SCF (Shaolin Chan Foundation), which is a non-profit organization that promotes natural, healthy living and Shaolin legacy in culture, arts, philosophy and medicine.
The seminar was well received by over 50 enthusiastic health and wellness conscious seekers from all walks of life. The seminar started with Grandmaster DeRu's introduction of quantum conscious communication and Zen meditation for cosmic Qi (energy) and self-empowerment. Many suggestions from the participants have given to the seminar coordinator, were that they wished it could be little longer.
One of the participants stated, "It was so educational and enlightening to see the world in different light that Zen meditation can open and to cultivate our energy channels in such a way we can tap into the inner wisdom of ourselves and that of the galaxy."
"It is indeed," says DeRu. "We can drastically improve our health and wellbeing as well as our way of thinking and our way of living with cosmic Qi through natural meditation transcending our Qi vibration to connect with Qi essence of the universe through deep meditation status."
The lecture continued to lead the participants into the chapter of internal KungFu and meridians. Picture by picture, DeRu briefly explained the Jing Luo (meridian) system of Chinese medicine in relation to traditional internal Kung Fu for health and healing. Chinese herb medicine, acupuncture, and acu-point medical massage have always been part of the Shaolin traditional training for centuries. Since ancient times, it has been known in China that Shaolin Zen Masters, above all other tasks, have healed people around the temple hundreds of miles away.
The last topic DeRu introduced to the participants was Tai Gong, which is the combination of Tai Chi and Qi Gong, designed by DeRu for over 15 years' continued research and perfection, applying meridian-organ Chinese medical and natural healing system with each motion to communicate with each cell, transport energy, and nourish the entire system to bring the body and mind in full function to connection with the universe cosmic Qi for healing and self-empowering.
The concept of Tai Gong, according to DeRu, is to, first of all, bring the body and mind together from inner conscious to outer conscious, from cells' conscious to cosmic Qi conscious. Tai Gong training is to bridge that special conscious communication to channel Qi so as to create more cosmic Qi (energy) for bodily organism re-organization to defend oneself from disease to eventually achieve optimal health.
"All the movements are designed in such a way of motion to instigate and propagate the entire mind-body cosmic Qi system to flow together in communication to vibrate that PQ to tap the essence of cosmic Qi of the universe." said the coordinator Mandy Ma.
The featured presentation by WuBin, the mentor of action stars Jet Li and Dannie Yan, was dedicated to meditative facial and head message techniques and meditative internal Kung Fu Yi Jin Jing (slow muscle tendon Qi exercise). He step-by-step introduced this to each participant.
One of the participants explained, "I felt so great after that slow meditative work with him, my pain on my right shoulder was gone." This person also added the following. "It must have moved my energy into that region and released all the tension and stress from that area. It was a wonderful experience."
"Grand master WuBin's seminar was very detailed and educational to all the participants," said the coordinator, Mandy. "That seminar helped many with relaxation and released much of their built-up mental and physical tension in their systems."
From the beginning, Grandmaster WuBin led the audience into calmness and relaxation status. He then took time to ease them from stress to adjust their postures with conscious, deep breathing while guiding them into their mind serenity and total conscious awareness. In the meantime, he emphasized that notion of how external Kung Fu helps to exercise muscles and bones while Internal Kung Fu is more about mind, spirit, and inner consciousness.
"Just as Lao Zi said in Tao," expressed WuBin, "empty their sumptuous mind; fill their stomachs with good nutrition; calm and soften their competitive edge; and strengthen their muscles and bones."
Everyone needs to let go of all distraction of thoughts and material desires. Let go anything that makes one tense and release all the emotions and stress that will unleash the inner power to enhance one's resilience and indomitable spirit.
At the end of the seminar, many participants requested grandmasters Wu Bin and DeRu a Q & A session on their own personal concerns with their health and wellbeing, seeking for guidance to their daily living.