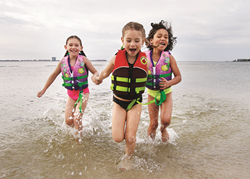 "The goal is to make it enjoyable for children to wear PFDs, with comfort and designs that make kids forget they're even wearing a vest."
Sauk Rapids, MN (PRWEB) March 04, 2015
Full Throttle®, a leading manufacturer of PFDs (personal flotation devices) and other products for watersports, has added two new designs to their exciting line of Water Buddies life jackets for small children. These vests fit children from 30-50 pounds and are designed to make wearing a PFD comfortable and fun.
Full Throttle already has two imaginative Water Buddies designs with friendly characters that appeal to children. These designs include a Ladybug and an Astronaut. For 2015, a Dinosaur and a Firefly have joined the expanding line.
Each Water Buddies vest has a uniquely-shaped foam back which brings the designs to life. With soothing fabrics and lightweight, durable flotation foam, the vests are extremely comfortable to promote all-day wear when in or around the water.
According to Mary Snyder, Full Throttle's VP of Marketing, "The goal is to make it enjoyable for children to wear PFDs, with comfort and designs that make kids forget they're even wearing a vest. Water Buddies do that in a fresh, creative way."
All Water Buddies vests feature durable front-zippered closures with fully-adjustable waist belts in complementing colors. An adjustable leg strap helps prevent the vest from riding up. The Type-3 vests inspire water safety for children and peace of mind for parents.
Full Throttle is one of several brands manufactured by Absolute Outdoor, Inc. in Sauk Rapids, MN. Their other brands include Onyx®, ArcticShield® and Kent Safety Products. Absolute Outdoor specializes in bringing market-leading innovation to the watersport, outdoor recreation and commercial markets. For more information about Water Buddies and Full Throttle's other products and dealer locations, visit http://www.fullthrottlewatersports.com.
###