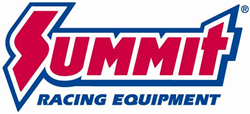 Tallamdge, OH (PRWEB) March 05, 2015
These new Summit Racing-brand parts give enthusiasts affordable ways to build a GM LS engine, re-gear a rear axle for more performance, and replace an old fuel tank with a brand new OE-style replacement tank.
Summit Racing LS Engine Blocks and Crankshafts
It's easy to make gobs of horsepower with a GM LS series V8. Summit Racing now offers LS iron engine blocks and crankshafts that will help lay the foundation for a high performance or race engine—without dipping into the grocery money. The engine blocks are brand new castings; the crankshafts are available with 24x or 58x reluctors already installed.
Summit Racing Street & Strip® Ring and Pinion Gear Sets
Summit Racing's Street & Strip ring and pinion gear sets feature gears that are CNC-cut from 8620 steel for precise mesh and durability. The gear sets are factory-lapped for a precise fit and Rockwell-tested for hardness.
Summit Racing OE Replacement Fuel Tanks
Summit Racing's replacement fuel tanks are ideal for restorations or replacement for the rusty gas container in a daily driver. The all-steel tanks are drop-in replacements for the factory units, and have a silver painted finish for corrosion resistance. Some tanks come with filler necks already welded in place.
Summit Racing Equipment
http://www.SummitRacing.com
1-800-230-3030