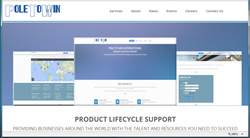 We put lots of thought and hard work into the design of our new web website. It's been designed so that our clients, prospects, and job candidates can find detailed and in depth information on Pole To Win
Santa Clara, CA (PRWEB) March 05, 2015
Pole To Win has launched a new company website on Monday, March 2, 2015 in conjunction with the opening of the Game Developers Conference at Moscone Center in San Francisco, CA.
The new PTW website is broken into six categories: Services, About, News, Events, Careers, and Contact Us. Both clients and prospects get more in depth knowledge about PTW's quality services, executive team, job openings, and well-established history.
Masaru "Mikey" Harada, EVP & CFO, of Pole to Win America was key in the development of the new PTW site and said:
"We put lots of thought and hard work into the design of our new web website. It's been designed so that our clients, prospects, and job candidates can find detailed and in depth information on Pole To Win. In addition, it's now much easier to reach the department that they need as our "Contact Us" page has three categories: Inquires, Media Contacts, and Careers."
About Pole To Win:
Pole To Win is the world's premier video game and e-commerce services provider. With a range of services including Testing, Quality Engineering, Localization, Customer Support and Onsite Services, Pole To Win is a one-stop-shop for your production needs. With two decades of experience, and a global reach stretching across 19 studios, PTW has the infrastructure to support projects and companies of all sizes. Pole To Win International Group is a group of subsidiaries of Poletowin Pitcrew Holdings Inc. POLE TO WIN is a registered trademark of Pole To Win Co., Ltd in Japan and other countries. All rights reserved. For more information, visit http://www.poletowininternational.com. Stay connected with Pole To Win International on Facebook, Twitter and LinkedIn.