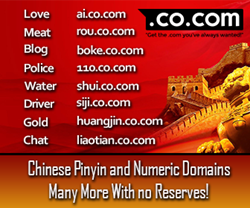 "Numeric and Chinese pinyin domains are very popular. These great names are being offered with no reserve prices, creating an opportunity to own a premier number or Chinese pinyin domain."- Jonathan Tenenbaum, General Manager, NameJet
Kirkland, WA. USA (PRWEB) March 04, 2015
In celebration of the Chinese New Year, NameJet, the world's leading aftermarket domain name auction platform, has partnered with the .co.com registry to make available 200+ domains of some of the very best Chinese pinyin (phonetic Romanized Chinese) and number domain names. These highly desirable domains are being offered for auction with no reserve prices and include names like 888.co.com (triple good luck), baoxian.co.com (insurance), ai.co.com (love), gupiao.co.com (stock), diannao.co.com (computer), yiyao.co.com (medicine), jiaju.co.com (furniture), jijin.co.com (mutual funds), jiudian.co.com (hotel), Shenzhen.co.com, yiner.co.com (baby), hunli.co.com (wedding) and many more.
"Numeric and Chinese pinyin domains are very popular. These great .co.com names, end in the popular .com and are being offered with no reserve prices. This creates an opportunity to own a premier number or Chinese pinyin domain at a fraction of what the .com version would cost," said Jonathan Tenenbaum, General Manager, NameJet.
The window to backorder these domains will begin to close on 3/26/2015, followed by private auctions for domains that have multiple bidders. Visit http://www.namejet.com/featuredauctions/codotcom
to see the complete listing.
About NameJet
NameJet, a joint venture between eNom, Inc., a subsidiary of Rightside (NASDAQ: NAME) and Network Solutions, LLC, a subsidiary Web.com (NASDAQ: WWWW), is the world's leading domain name auction platform. Launched in 2007, NameJet has since processed more than 200,000 domain auctions on its award-winning and easy-to-use website. With an exclusive inventory of expired and deleted domains from several of the largest registrars, plus top-quality premium name listings and drop-catching services, NameJet is the industry's most trusted auction and aftermarket services provider.
About .co.com Registry
The .co.com domain registry offers businesses short and memorable .co.com domain names ending in the popular .com extension. .co.com domain names are available through a worldwide distribution network of domain name registrars and resellers. Join the thousands of companies who have registered their .co.com domain, learn more, and find a .co.com registrar at http://registry.co.com.