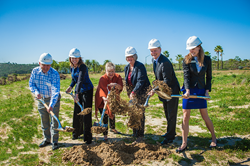 "Cielo Carmel represents affordable housing done right" City of San Diego Council President Sherri Lightner
San Diego, CA (PRWEB) March 05, 2015
Affirmed Housing is pleased to announce the celebration of the groundbreaking for Cielo Carmel on March 4 at 10AM. The event, located on Edgewood bend court will feature speakers: Sherri Lightner, Council president, City of San Diego; James Silverwood, President & CEO, Affirmed Housing; Charmaine Atherton, Senior Vice President, Southern California Community Development, Bank of American Merrill Lynch; and Richard Gentry, President & CEO, San Diego Housing Commission.
Designed to blend harmoniously with its neighbors, Cielo Carmel will offer 197 one, two and three bedroom apartments for families earning 50-60% AMI . Styled in "Big House" architecture, the 17, two-story buildings will incorporate attractive Mediterranean or Bungalow designs with patios, balconies and private-access garages. Community amenities include a clubhouse, swimming pool, playground, community garden, a dog park and on-site management. To control utility costs, Affirmed is building Cielo Carmel with energy standards 15% higher than the newly revised Title 24 requirements. In addition, Cielo Carmel residents will enjoy easy access to Highway 56, a new shopping center and schools.
Built with high energy performance standards, common area amenities will be completely powered by the sun and a water-wise drought tolerant landscape design.
James Silverwood, President of Affirmed Housing Group, states, "Cielo Carmel is designed to facilitate a strong sense of community among residents, and the neighborhood at large. Cielo is an energy efficient community in a central location. We are proud to bring affordable housing to the Carmel Valley neighborhood."
Headquartered in San Diego, Affirmed Housing is dedicated to creating and maintaining exceptional communities in California through the development of quality affordable housing. Areas of expertise include site selection, design, sustainability, construction, and asset management. Affirmed also has extensive knowledge in public finance, low-income housing tax credits, and tax-exempt bond financing. For more information, visit http://www.affirmedhousing.com. Or to sign up for the Cielo Carmel waiting list please call # 714-363-4090 X7154