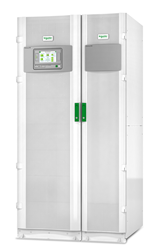 New Galaxy VM represents a major new breakthrough in UPS technology. Schneider Electric's patented ECOnversion™ combines the advantages of double conversion on-line topology and advanced ECO mode technologies to create an innovative new UPS solution
London, United Kingdom (PRWEB UK) 11 March 2015
Schneider Electric, a global specialist in energy management, is to unveil its Galaxy VM three-phase uninterruptible power supply (UPS) with ECOnversion at Data Centre World, 11-12th March 2015 at ExCeL, London. Galaxy VM range UPS are up to 99% efficient and qualify for the government's Enhanced Capital Allowances scheme.
Galaxy VM employs Schneider's patented ECOnversion™ technology which combines high energy efficiency and seamless switch-over to inverter mode in the event of a mains power failure. In this way the electrical load is never exposed to unconditioned mains power and as such the Galaxy VM is compliant with IEC 62040-3 and Class 1, a unique achievement in its class.
"New Galaxy VM represents a major new breakthrough in UPS technology" said Gael Souchet, Global Product Manager, Galaxy VM UPS. "Schneider Electric's patented ECOnversion™ combines the advantages of double conversion on-line topology and advanced ECO mode technologies, providing our customers with an innovative new UPS solution that helps to maintain the highest levels of energy efficiency."
The Galaxy VM UPS can achieve 99 percent efficiency using ECOnversion™ mode, which also features input harmonic correction while combining the advantages of double conversion on-line and advanced ECO mode technologies. This allows the UPS to operate at the greatest efficiency without putting data centre loads at risk, an important feature for data centre operators and managers who must balance the need for optimal energy efficiency with maximum uptime and availability.
Additionally, the Galaxy VM offers flexible energy storage solutions with swappable modular battery modules and fans that can be replaced without the need to go to maintenance bypass, thus increasing availability and load protection. It also offers an unrivalled operating range, able to support loads from 160 to 800kVA.
The Galaxy VM range, together with its replacement battery modules, are listed on the UK Government's Energy Technology List (ETL) which allows operators to claim enhanced capital allowances (ECA's) for deploying energy-efficient equipment.
Designed to integrate into existing electrical, physical and monitoring environments, Galaxy VM works with Schneider Electric's StruxureWare® data centre infrastructure management (DCIM) software applications, building management systems (BMS) and Modbus protocol.
Enhancing its ease of installation, the Galaxy VM has a highly compact footprint, allowing for top and bottom cable entry, integrated casters for ease of mobility and back-to-the-wall installation requiring zero clearance enabling to be deployed in seismic zones. Galaxy VM is also easily configured with Schneider Electric's ISX Designer configuration tool.
Galaxy VM is a key component of Schneider Electric's comprehensive energy management solution for data centre and industrial applications. For more information about this product and Schneider Electric's energy management solutions, please visit the Power Management Systems product website and Schneider Electric TV for product showcase videos.
The new Schneider Electric Galaxy VM UPS will be on show at Data Centre World London, 11-12th March 2015, and available to view as part of on365's new containerised datacentre initiative "datacentres2go" on stand (E93).
For more information on Galaxy VM UPS please visit http://www.apc.com/products/family/?id=483 or join Schneider Electric at Booth D80 and the Data Centre Management Bar at London ExCel on the 11th – 12th March 2015.
==Ends==
About Schneider Electric
As a global specialist in energy management and automation with operations in more than 100 countries, Schneider Electric offers integrated solutions across multiple market segments, including leadership positions in Non-residential & Residential Buildings, Industries & Machines Manufacturers, Utilities & Infrastructure and Data Centers & Networks. Focused on making energy safe, reliable, efficient, productive and green, the Group's 170,000 employees achieved revenues of 25 billion euros in 2014, through an active commitment to help individuals and organizations make the most of their energy.
http://www.schneider-electric.com
Press Contact:
Schneider Electric
Lavina Dsouza
Phone: + 44 7887 560218
Lavina(dot)dsouza(at)schneider-electric(dot)com