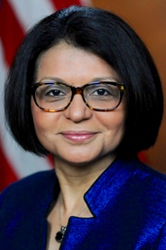 GULFPORT, Fla. (PRWEB) March 05, 2015
Former U.S. Assistant Attorney General Ignacia Moreno will lecture at Stetson University College of Law in Gulfport, Florida, on March 11.
The event is free and open to the public.
As assistant attorney general for the U.S. Department of Justice Environment and Natural Resources Division from 2009-2013, Moreno managed the division's response to the Deepwater Horizon oil spill. Originally from Colombia, Moreno was named one of the 100 Most Influential Hispanics in the United States by Hispanic Business Magazine.
Moreno will discuss "Environmental Litigation in the 21st Century." Stetson's Institute for Biodiversity Law and Policy is co-sponsoring this Foreman Biodiversity Lecture.
Moreno will speak at noon on March 11. The lecture takes place in the Great Hall on Stetson's campus at 1401 61st St. S. in Gulfport.
Stetson's Edward and Bonnie Foreman Biodiversity Lecture Series brings leading experts to campus to speak on a range of environmental topics directly impacting the state, as well as topics with national and global impacts. Professor Royal C. Gardner directs the Institute for Biodiversity Law and Policy at Stetson.
###
About Stetson University College of Law
Stetson University College of Law, Florida's first law school, has prepared lawyers and leaders since 1900. Today, Stetson leads the nation in blending legal doctrine with practical training, evidenced by its top-ranked programs in advocacy and legal writing. Through our academically rigorous curriculum and commitment to social responsibility, Stetson lawyers are ethical advocates ready to succeed in the legal profession.