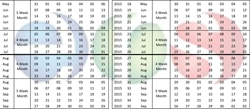 It is very satisfying to give back a portion of our knowledge to the industry with these complimentary tools. - Paul Warren, VP, Director of Consulting at Enhanced Retail Solutions
New York, NY (PRWEB) March 17, 2015
For well over a decade, the team at Enhanced Retail Solutions (ERS) has offered businesses a one stop source for analytics and planning supported by a suite of interlinked software tools, and consulting services in order to optimize wholesale and retail inventory. By tapping into over 100 collective years of retail experience, the company has been able to provide those in the industry with a set of resources to help them better partner with their retail clients. With web sites visits exceeding 30,000, these resources are demonstrating very high value for both ERS and industry players worldwide.
Adding to its Retail Math & Definitions, Sales Curves and Walmart/Retail Link Terminology resources, ERS has just released a Retail Fiscal Calendar Guide, a new resource for both their clients as well as anyone else interested in obtaining this information.
Part of ERS' mission is to help vendors speak their buyers' language. All retailers use their own calendar to gain more accurate insights into their business and to tie into their fiscal calendar. For example, the calendar known as Feb 4-5-4 denotes that the first month of the fiscal year begins in February and the first month contains 4 weeks, 2nd month contains 5 weeks and 3rd month contains 4 weeks. The count of weeks for the remaining quarters repeats in the same way. Beginning on Sundays and ending on Saturdays, it also ensures holidays are lined up and like days, such as a particular Wednesday, are lined up as well. It provides the same number of weekends for comparable months, therefore allowing a more accurate report of sales and year-to-year comparisons.
Because understanding the logic behind a retailer's individual fiscal calendar can be confusing, ERS has laid out the retail calendars for the major retailers. Using this resource, vendors can talk about "Week 7" knowing how it aligns to our everyday calendar.
According to Paul Warren, VP, Director of Consulting, "It is very satisfying to give back a portion of our knowledge to the industry with these complimentary tools."
About Enhanced Retail Solutions LLC: Enhanced Retail Solutions is a New York based software and consulting firm specializing in retail analysis and Demand Planning for the manufacturer and their retail partners. ERS' state of the art software tools and consulting deliver critical data quickly, easily and cost effectively, adding over one hundred million dollars to their clients' bottom line. ERS' broad customer base includes industry leaders in the Electronics, Consumer Products, Apparel, Footwear, Home Textile, Toy, Home Decor, Home Improvement, Housewares and Food Industries. For more information, visit http://www.EnhancedRetailSolutions.com.