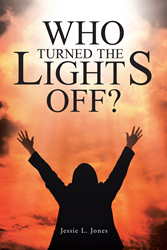 Homelessness is not just an individual problem; it ultimately impacts an entire community.
WASHINGTON, D.C. (PRWEB) March 09, 2015
Please, do you have any change to spare?
There are many ways in which people interact with the homeless. Some donate to nonprofits and organizations, others purchase food and drinks for individuals sitting out on the street. There is a constant struggle by cities and individuals to fix the issue, yet it is still extremely prevalent.
Jessie L. Jones wrote a fictional book with hopes that it will change the hearts and minds of the readers. She describes a city with issues familiar to many readers: families struggling to support themselves.
"On a daily basis, I am, along with others are constantly confronted with those who are homeless," Jones said. "I hope that my message will prick the hearts and minds of society, as a whole, so that they will become sensitive to the homeless population."
"Who Turned The Lights Off?" is a spiritually focused, inspiring and dramatic look at an all too common problem, declaring a message of reconciliation and revitalization.
Dr. Dan Johnson lost his job as a psychologist and his life is immediately changed. Simple pleasures and necessities are difficult to find. During his time on the street, Dr. Johnson meets friends and enemies. He becomes close with a minister who is trying to end homelessness while another man passionately tries to destroy what's left of Dr. Johnson's life.
"Who Turned the Lights Off?" shares the hardship and struggles that some civilians face every day and night. The book is a rallying call to action for many types of social justice issues such as suicide, drug use, gang violence, and PTSD.
"Homelessness is not just an individual problem; it ultimately impacts an entire community," Jones said.
For more information visit http://bookstore.westbowpress.com/.
Who Turned The Lights Off?
By Jessie Jones
ISBN: 978-1-49086-212-5
Available in softcover, hardcover, e-book
Available on Amazon, Barnes & Noble and Westbow
About the author
During her time as a Federal Government worker, Jessie Jones became more aware of homelessness within her city and the nation. She claims she is just an average citizen who has a burden on her heart about the plight of homelessness in society and that the message in the book is the answer to her prayers.
# # #
**FOR IMMEDIATE RELEASE**
For review copies or interview requests, contact:
Jake Doll
317.602.7137
jdoll(at)bohlsengroup(dot)com