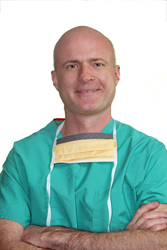 Covington, La (PRWEB) March 06, 2015
Many patients with knee osteoarthritis have continued pain and reduced function despite medical therapy. If you (or someone you know) have chronic pain and problems with walking due to knee osteoarthritis, you may be interested in the ACT‐OA clinical trial.
Kevin Darr, M.D. with Covington Orthopedic announced today that he is one of fifteen physicians in the U.S. to receive authorization from Cytori Therapeutics to begin enrolling subjects as part of a new, multi‐site, double blind, placebo‐controlled clinical trial to evaluate the safety and feasibility of a new approach targeted at reducing pain and improving function in patients with knee osteoarthritis.
The ACT‐OA clinical trial is designed to study the use of a patient's own Adipose Derived Regenerative Cells (ADRCs), prepared using the investigational Celution® System, in the treatment of osteoarthritis affecting the knee. The study will be conducted in patients who still have knee pain and reduced function, despite medical therapy.
Patients between the ages of 40 and 70 with chronic knee pain (at least six months) due to osteoarthritis and are able to undergo a small volume liposuction procedure may be eligible to participate in the ACT‐OA clinical study. If eligible, each study participant will volunteer to complete several medical tests, answer questions, and have an investigational procedure performed by Kevin Darr, M.D at Fairway Medical Center. The participants will then return to the clinic 7 times over the course of 1 year to assess the effects of the investigational treatment on their knee pain and function. All costs for participation are covered.
In addition to this new trial, Dr. Darr is conducting several other IRB‐approved clinical studies measuring the effectiveness of regenerative cell therapy to treat osteoarthritis of the knee, hip, and shoulder; soft tissue disorders (rotator cuff tears, ligament/tendon tears, tendonitis/tendinosis, etc.); and osteonecrosis.
For information on the ACT‐OA clinical trial and additional studies, contact Covington Orthopedic at (985) 273‐5888 and visit http://www.CovingtonOrtho.com, http://www.act-oa.com or http://www.clinicaltrials.gov.