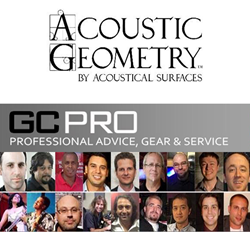 GC Pro's well-trained and well-connected audio professionals are a perfect match for Acoustic Geometry's uniquely-effective products
Chaska, MN (PRWEB) March 06, 2015
Acoustic Geometry is proud to announce a "new venue" for our best-in-class acoustic-treatments and soundproofing – AcoGeo's acclaimed diffusors, eco-absorbers, and noise control products are now available through all GC Pro consultants at select Guitar Center locations around the United States. As the Premium brand in acoustic products, Acoustic Geometry relies on professional, highly-experienced dealers to offer pro-level solutions for greatly improving sound in any room – and this requirement for professionalism brought AcoGeo to GC Pro.
John Calder, AcoGeo's Director of Retail, noted that "GC Pro's well-trained and well-connected audio professionals are a perfect match for Acoustic Geometry's uniquely-effective products, with a wealth of experience in delivering the right solutions for their professional clientele. We're very enthusiastic about partnering with each of the Pros from GC to help make clients' rooms sound much, much better."
Each of the GC Pro consulting experts can be found on the Acoustic Geometry website (http://www.AcousticGeometry.com) Retail Locator, and getting in touch with them is simple – they're listed by state and store, along with their email address and phone number. Contact any of these excellent resource people for the best Acoustic Geometry products for your room.
More information can be found on the AcoGeo website (http://www.AcousticGeometry.com). Acoustics videos are available on the Acoustic Geometry YouTube Channel (http://www.youtube.com/AcousticGeometry).