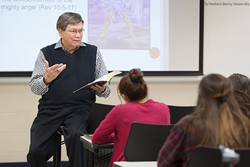 Lynchburg, Va. (PRWEB) March 05, 2015
President Jerry Falwell has announced the merger of Liberty University's undergraduate School of Religion and Liberty University Baptist Theological Seminary to become the Liberty University School of Divinity. The School of Divinity will be the nation's largest school of its kind; there were more than 10,400 undergraduate and 9,600 graduate students enrolled in the programs for the 2013-14 academic year.
"The decision to create the School of Divinity was directly tied to the university's mission to train Champions for Christ to impact tomorrow's world," Falwell said. "This merger will consolidate the faculties and other vast resources of both schools, allowing more students to have direct access to nationally renowned professors and dedicated leadership."
Dr. Ronald Hawkins, vice president for Academic Affairs and provost, appointed Dr. Ed Hindson as dean of the School of Divinity. Hindson, a distinguished professor who has served at Liberty for more than 20 years (most recently as dean of the School of Religion), believes the new School of Divinity will keep Liberty at the forefront of religious and ministerial training.
"The School of Divinity will continue our commitment to conservative evangelical theology, practical ministry, and evangelistic outreach," Hindson said. "By housing both our undergraduate and graduate religion programs under a united administrative structure, we can operate more efficiently and effectively to benefit all of our biblical, theological, and ministry students."
This new structure will also bring consistency to Liberty's religion programs. Other schools across the university, such as the School of Behavioral Sciences, the School of Business, and the School of Education, have already proven to be successful models of housing undergraduate and graduate programs in one academic unit.
The School of Divinity will provide degree programs from the certificate to the associate's, bachelor's, master's, and doctoral levels. Courses will be offered on campus and online across four major departments: Biblical Studies, Christian Leadership & Church Ministries, Global Studies, and Theological Studies. In addition, the School of Divinity will house the Center for Asian Ministries, Center for Chaplaincy, Center for Youth Ministries, Center for Ministry Training, Center for Judaic Studies, and the Center for Apologetics & Cultural Engagement. These centers are co-curricular in nature and are designed to be a bridge to the larger university and evangelical community.
The School of Divinity will continue the momentum generated by strategic relationships that the university has established with local, national, and global organizations and ministries, such as the Billy Graham Evangelistic Association, Second Baptist Houston, Cross Church, Prestonwood Baptist Church, Thomas Road Baptist Church, the International Mission Board (IMB), and the North American Mission Board (NAMB).
Planning has begun for construction of a new world-class facility to house the School of Divinity on Liberty's rapidly growing campus.
"The School of Divinity is a sign of Liberty University's ongoing commitment to its roots in religious and ministerial training," Hawkins said. "The new structure will allow Liberty to continue to build on its rich tradition of producing church and ministry leaders to serve locally and abroad while keeping programs relevant for new generations to meet needs around the world."
About Liberty University
Liberty University, founded in 1971, is the largest private, nonprofit university in the nation, the largest university in Virginia, and the largest Christian university in the world. Located near the Blue Ridge Mountains on more than 7,000 acres in Lynchburg, Va., Liberty offers more than 450 unique programs of study from the associate to the doctoral level. More than 200 programs are offered online. Liberty's mission is to train Champions for Christ with the values, knowledge, and skills essential for impacting tomorrow's world.