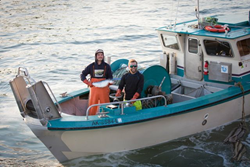 Cordova, Alaska (PRWEB) March 09, 2015
The Copper River/Prince William Sound Marketing Association is pleased to announce that they will be participating at Seafood Expo North America in Boston from March 15-17. Hosting Booth #2725, the Association will be on hand and at the ready to offer unique and timely insights and resources for buyers, wholesalers, chefs and other retailers interested in the five species of high-quality wild Alaska salmon that come from the cold clean waters of the region.
Booth #2725 will feature point of sale materials, such as the updated suppliers' directory, in-ice logo spears, Copper River Nouveau cookbook, cedar grilling planks, and the opportunity to talk directly with fishermen from the Copper River/Prince William Sound fisheries. Each year, the Copper River season opens with great enthusiasm and excitement from customers and savvy seafood lovers. The Booth is a key resource for retailers who want to gear up now to be ready with signage, recipes and information when the season springs to life in May.
For the 2015 season, the Alaska Department of Fish and Game is predicting that if the Copper River sockeye salmon run returns as forecast, the projected commercial harvest would be the 3rd largest since 1889 or the last 127 years. Of course, this number could be complicated by natural factors but overall it is exciting news for the fleet.
Chelsea Haisman, the Association's Program Coordinator, says, "This is shaping up to be a great year at the show. Each one of us attending has fished the Copper River and Prince William Sound, and I think it will be a great opportunity for industry professionals to connect directly with our fishermen. These are the women and men who are out there day in and day out bringing you fresh, high quality salmon throughout the season. Bringing our fishermen to our booth in Boston puts a real face to the product. Don't be afraid to stop by and say hello!"