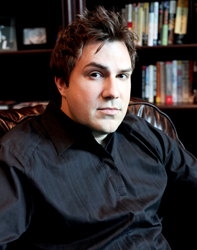 Anyone can develop a new fitness tracker, but without the innovations that connect the fitness tracker to the phone or PC, and the security measures that today's consumers are demanding, that tracker is useless
Scottsdale, AZ (PRWEB) March 09, 2015
The Mobile World Congress, which met from March 2 through March 5, discussed the battle for the back end of the Internet of Things, claims a report on Ad Exchanger. Jason Hope comments on the realities of this report, and how the focus is changing from a consumer-centric focus to one of back end changes.
According to the March 2 article entitled "MWC 2015 - The Real Battle In The Internet Of Things Is For The Back End, Not The Gadgets," Allison Schiff of Ad Exchanger indicates that the gadgets, whether connected cars or fitness trackers, are not where developers are battling for customers. Rather, it's the back end of things. It's in the development of the infrastructure, platforms, software and other back-end features that make these devices work, where companies are focusing their efforts. It's also in the marketing opportunities that the Internet of Things creates.
"This makes sense," says Jason Hope. "Anyone can develop a new fitness tracker, but without the innovations that connect the fitness tracker to the phone or PC, and the security measures that today's consumers are demanding, that tracker is useless."
Marketing was also a major player in the MWC 2015. As mobile technology becomes fully integrated into modern society, the ability to target individuals based on location is becoming increasingly important. According to the article, contextual awareness and location targeting were huge topics, as were the marketing benefits they bring. These abilities, then, create a need to coordinate technology across service providers and devices, and this topic was also of importance of the convention.
In addition, using data to personalize advertising to the individual user is a growing trend, as was seen at MWC. Developers are fighting now to make technology that gives marketers the ability to track, analyze and perfect this type of personalized advertising.
"The fact that the MWC did not focus entirely on the new products hitting the market in 2015 shows the shift in the Internet of Things this year," indicates Jason Hope. "Those who are going to make a name for themselves this year will be focused on the back end, rather than the consumer experience."
About Jason Hope
Jason Hope lives and works in Arizona, using his considerable resources to fuel research into causes he believe strongly in, such as medical research to fight the aging process. He follows the growth of the Internet of Things with great excitement. Learn more about his current research projects at http://www.jasonhope.com.