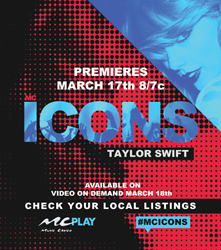 New York, NY (PRWEB) March 11, 2015
Music Choice is proud to announce singer-songwriter Taylor Swift as the first artist to be named an MC Icon. Music Choice continually supports the journey of music's biggest artists from their first tracks to legendary star status. Taylor Swift is one of Music Choice's top overall performers across its entire network. As a result, she will be the first MC Icon awarded with this status as a way to recognize her career achievements and the substantial impact she has had on MC fans since she appeared on our airwaves in 2006.
Taylor's iconic music videos including her current smash hit "Style" have over 85 million views on Music Choice On Demand and Music Choice Play. On MC Video On Demand, Taylor reigned as the No.1 country artist for seven years straight, from 2006 to 2013. Her songs currently play on 15 different music channels– a whopping 30% of Music Choice's service! Her relatable lyrics and melodies crossed over from country to pop and her worldwide success inspired us to create our own hybrid music channel, Pop Country, in 2013.
"Music Choice has had its own 'Love Story' with Taylor Swift," stated Damon Williams, VP Programming, Music Choice. "We knew she was special from the moment we first met her in 2006, and we are thankful to her and Big Machine Records for letting Music Choice and our viewers get a front row seat on her journey to success."
As a result of this recognition, Music Choice will feature Taylor across all its platforms.

Music Choice Play will premiere a special entitled "MC Icons: Taylor Swift" nationally Tuesday, March 17 at 8pm ET/PT on Music Choice Play (check local listings). MC Icons: Taylor Swift takes a closer look at those stories in its inaugural installment sure to attract Swifties. The special includes archival footage of Taylor's first visit to Music Choice in 2006 up to present day. The episode will become available on Music Choice On Demand and musicchoice.com following its initial broadcast premiere on Music Choice Play.
Music Choice On Demand will feature a top level Taylor Swift folder that includes her catalog of music videos from 2006 until her latest album "1989." Fan favorites including "You Belong With Me", "Love Story", and "Blank Space" and many more will appear on VOD and musicchoice.com via MC Hit List Video Channel. Directional: Music Choice On Demand>MC Icons: T. Swift
Music Choice Music Channels will debut specially created MC Icons: Taylor Swift facts that will be added to our database permanently to mark this occasion. Taylor songs will also play two in a row on MC Pop Country, Hit List and Today's Country Music Channel to kick off the celebration March 18th.
Music Choice Social Media will call upon her fans to share their love and experiences with Taylor and feature them across all social platforms including Tumblr, Vine, Instagram, etc.
Music Choice will continue to recognize artist contributions through the year with additional MC Icons to be announced each quarter. For more information about Music Choice log onto http://musicchoice.com/ or to become part of the Music Choice community join us on Twitter: @MusicChoice or Facebook.
About Music Choice:
Music Choice, the multi-platform video and music network, delivers its music programming to millions of consumers nationwide through their televisions, online and mobile devices. Music Choice programs dozens of uninterrupted music channels; produces originals that feature today's hottest established and emerging artists; offers thousands of music videos; and launched Music Choice Play, the music video, lifestyle and entertainment network for Millennials. For additional information log on to http://www.MusicChoice.com | Twitter: @MusicChoice | Facebook: http://www.facebook.com/MusicChoice