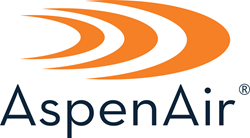 "We are thrilled to know that our filters are also effective at eliminating viruses. This will help us to improve the health and wellbeing for countless people", said Mike Gunion, CEO of AspenAir.
Rohnert Park, CA (PRWEB) March 10, 2015
AspenAir, one of North America's leading providers of high performance air filtration systems, announced that independent lab testing has found its products to be effective at killing viruses. Now property managers will have a new tool in their efforts to provide a healthy indoor environment.
AspenAir's filtration systems were tested by LMS Technologies, Inc., (LMS) an independent air filter and media testing company established in 1996 in Bloomington, Minnesota. LMS utilized the bacteriophage MS2, a virus that parasitizes and reproduces in the bacterium Escherichia coli. MS2 is a commonly used viral surrogate in filtration testing because it acts in a similar fashion to other viruses without being pathogenic.
On January 7, 2015, the AspenAir filters were treated with MS2 and placed in a filtration testing device. Afterward samples of the MS2 from the AspenAir filters were combined with Escherichia coli and incubated for 24 hours. At that point the number of killed Escherichia coli colonies was counted and compared to control samples. The test showed that the AspenAir filters yielded a 49% reduction in Escherichia coli after 60 minutes, thereby indicating that 49% of the MS2 virus had survived and 51% had been killed by the AspenAir filters.
AspenAir filters utilize a polarizing field to capture particles and kill organisms. "We knew that the polarizing field is an inhospitable environment for bacteria," said Mike Gunion, CEO of AspenAir, "Now we are thrilled to know that our filters are also effective at eliminating viruses. This will help us to improve the health and wellbeing for countless people."
ABOUT ASPENAIR
AspenAir manufactures a patented air filtration system that reduces HVAC energy consumption and maintenance costs, diverts landfill waste, and improves indoor air quality. The firm's technology creates a 24kV polarizing field in a durable non-metallic frame, providing unrivaled performance. Additional details are available at: http://www.aspenairinside.com