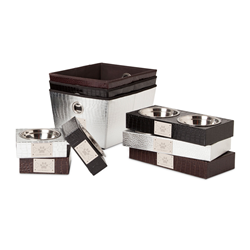 Equip yourself with a few designated containers when you are picking up in each room: a bin for toys, another for leashes and collars.
New York, NY (PRWEB) March 25, 2015
The flowers are about to bloom, the birds are starting to serenade, but the house still feels like it has the winter blues. LazyBonezz can help freshen up spaces with their line of trendy pet storage solutions. Designed to organize toys, treats and pet accessories, their bins, boxes and travel totes help make sense of four-legged family members stuff.
One of LazyBonezz's newest releases, The Croc Toy Bin, clears pet's playtime clutter in the most stylish way. Outfitted with a shiny, patent finish, these lux, croc embossed bins come in three, easy-to-coordinate colors, and have two circle-shaped handles on either side for easy room-to-room cleaning.
Other pet storage solutions include: LazyBonezz signature Grab & Go Bins (set of three), with a u-shaped cutout that makes it perfect for toys. Pets can easily reach in and grab their favorite plush or squeaky toy. A great option for travel is their Vinyl Tote or Bin, with sturdy handles and spacious design, they make hitting the beach or park easy.
LazyBonezz President, Lorraine Gold has a few spring cleaning tricks of her own; she suggests, "Equip yourself with a few designated containers when you are picking up in each room: a bin for toys, another for leashes and collars. That way everything has a place, and more time can be spent enjoying the warm spring weather, rather than straightening up."