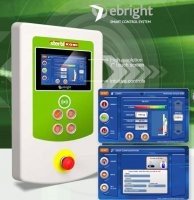 The ebright Smart Control System makes a great product superior.
Stevensville, Maryland (PRWEB) March 10, 2015
To help spotlight the technological advances associated with the introduction of its new, full-color touch screen control console on the company's wireless mobile column lifts, industry leader Stertil-Koni today announced the debut of a new video.
The advanced control system used by Stertil-Koni is an extension of the concept of human-machine-interface (HMI). Called the "ebright Smart Control System," it has been engineered to provide greater control of the lift in a familiar, electronic notepad-style design. In addition, it further distinguishes Stertil-Koni's offerings in the competitive field of heavy duty vehicle lifting systems.
The ebright Smart Control System consists of a seven-inch, full-color touch screen console on the company's wireless mobile column lifts, and provides intuitive, ease-of-use with maximum visual information about the lifting process – all at the fingertips of the person who needs it most, the busy technician on the shop floor.
The ebright Smart Control System will initially be available on the Stertil-Koni EARTHLIFT™, widely recognized as the industry's first green, hydraulic wireless mobile column lift.
The benefits of the ebright Smart Control System are numerous and include:

A high resolution, brightly illuminated, full-color, seven-inch screen
Touch screen control, even when the technician is wearing gloves
Owner/user configurable options to protect against unauthorized use
Presentation of all relevant information at a glance
Up to 32 mobile columns fully synchronized in a single lifting set
Stertil-Koni anticipates that the ebright Smart Control System will be a core component of all new wireless mobile column lifts shipped by the company in the first half of 2015.
Noted Stertil-Koni president, Dr. Jean DellAmore, "We increasingly operate in a video-oriented, interconnected world. That is precisely why we felt it so important to upgrade our control console with an interface that is consistent with a format that most of us are already know well, and debut the news in an online video format."
"In summary," DellAmore stated," the ebright Smart Control System makes a great product superior and a very brief video is certainly one of the most efficient ways to deliver news of this impactful, technological advance to our customers."
The ebright Smart Control video is available at: https://vimeo.com/117544465.
About Stertil-Koni
Stertil-Koni, a brand of the Stertil Group, is the global market leader in heavy duty vehicle lifts – bus lifts and truck lifts– and is the preferred supplier to the world's leading companies in the truck and bus industries. Stertil-Koni's breadth of products meets all ranges of lifting needs and includes mobile column lifts, two-post, four-post, in-ground piston lifts, parallelogram lifts, half-scissors and its innovative axle-engaging, in-ground, scissor lift configuration, ECOLIFT. Stertil-Koni is also now installing DIAMOND LIFT across North America, a full rise telescopic piston lift designed to set new standards in precision heavy duty lifting. Stertil-Koni USA is headquartered in Stevensville, Maryland. Stertil-Koni has production facilities in Europe in The Netherlands, and in the USA in Streator, Illinois.