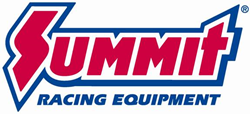 Tallmadge, OH (PRWEB) March 12, 2015
Even the most aggressive-tread tire is no match for serious mud, ice, snow, sand, or slippery rock. At 3.5 feet long, TJM Equipped TRED 1100 Off-Road Recovery Ramps are designed to supply that critical initial stretch of traction.
TJM Equipped makes its TRED (Total Recovery and Extraction Device) Recovery Ramps from an extraordinarily durable plastic that can withstand extreme torque, flex, and impacts. The ramps' surface incorporates an aggressive tooth design to further increase traction for both the tire and the ramp itself. Drivers can also use these versatile ramps as a shovel, making them invaluable for winter or off-road driving.
TRED 1100 Off-Road Recovery Ramps are sold in pairs and come in either a bright yellow or green color, which means they'll stay visible even after the tire has slathered them in muck.
Summit Racing Equipment
http://www.SummitRacing.com
1-800-230-3030