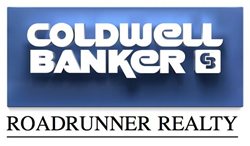 Twentynine Palms, CA (PRWEB) March 10, 2015
Coldwell Banker Roadrunner Realty has just announced the opening of their new office in 29 Palms. The new office is located at 73486 Twentynine Palms Highway, Suite C in Twentynine Palms. The office will allow the agency to better serve clients in Twentynine Palms and bring clients in the area the same level of service that existing clients throughout the Yucca Valley are accustomed to. According to Jeff Poland, owner of Coldwell Banker Roadrunner Realty, "We are thrilled to have this new location up and running. Out agents are experts in finding the right properties in Twentynine Palms and we are hard at work making sure our clients know about these properties so they can move into their dream home as soon as possible."
The opening of the new office included an official ribbon cutting ceremony hosted by the 29 Palms Chamber of Commerce. Local officials are eager to bring attention to new businesses opening in the area and this event was well attended and well received throughout the community. The Mayor of 29 Palms was in attendance to recognize Coldwell Banker Roadrunner Realty, as well as two City Council members.
Coldwell Banker Roadrunner Realty serves clients throughout the Yucca Valley, and in addition to 29 Palms, the agents serve the communities of Joshua Tree, the Morongo Valley and Pioneertown. The agency is well known for presenting the best properties in the area, most of which are viewable on the firm's website. The agency also specializes in helping military families buy and sell homes in the area, and can work with these families who often have to move in our out very quickly.
The agents at Coldwell Banker Roadrunner Realty can provide help with finding rentals or home sales in the Twentynine Palms, Yucca Valley, Joshua Tree, Pioneertown and Morongo Valley area. The website also has MLS listings for the aforementioned areas to help visitors find homes for sale or rentals that they can call an agent at Coldwell Banker Roadrunner Realty for assistance with purchasing.
To learn more visit the Coldwell Banker Roadrunner Realty website at http://www.cbroadrunner.com/rentals/ or call 769.361.3088 to speak with an agent.
###