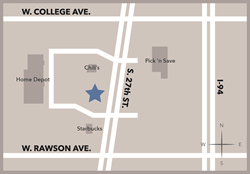 Popcareplus was founded by emergency medicine physicians that want to provide friendly care, "on the customers' schedule" at a lower cost than Emergency Rooms
Franklin, WI (PRWEB) March 10, 2015
Popcareplus opens the doors of its urgent care clinic this morning. The easily accessible,Franklin urgent care center on 27th street fosters a family friendly atmosphere aimed at making life's' unexpected medical needs more manageable. Popcareplus provides a new way for residents in Franklin, Oak Creek and the surrounding area to access immediate medical care without the uncertainty and unexpected expense of an emergency room visit. It's the brainchild of skilled emergency room providers who aim to bring their experience into an affordable urgent care setting. With online check-in and on-site prescription pickup Popcareplus is focused on convenience and efficiency in a retail healthcare environment that promises attentive, efficient and respectful urgent care.
Popcareplus looks to become the preferred name in retail healthcare in the Franklin and Oak Creek area by providing quick, affordable and thorough health care, delivered by forward thinking professionals who take the time to understand patients' concerns. Promising to be a new model of medicine that truly puts patients first, it's staffed by experienced and caring emergency providers with an expertise that is approachable and reassuring.
Popcareplus was founded by emergency medicine physicians that want to provide friendly care, "on the customers' schedule" at a lower cost than Emergency Rooms. Popcareplus offers immediate care that families can trust with providers that are experienced in all types of care for all ages. Healthcare on demand means flexible, family friendly scheduling options, online check-in, and the ability to pick up prescriptions onsite.
PopCareplus is now offering patients in Franklin, Oak Creek and the surrounding areas a variety of convenient and affordable healthcare services including care for accidents and injuries, colds, flu & other illnesses, allergic reactions and other ailments.
PopCareplus is located at 6501 S 27th St, Franklin, WI 53132 and the hours of operation are: Mon - Fri: 9am - 9pm, Sat - Sun: 9am - 5pm