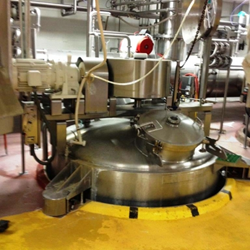 (PRWEB) March 11, 2015
Wohl Associates, Bohemia, NY-based specialists in used processing and packaging machinery, has taken delivery of four 1,500 gallon used cooking/cooling kettles. Manufactured by Lee Industries of Philipsburg, PA, these large U9MS dual motion cooking/cooling kettles were previously used in the food industry and mounted through a mezzanine floor.
Three-zone type 316 stainless steel jackets enable controlled heating and cooling and are national board stamped for 150 psi at 400 deg. F. Internally, the kettles are rated at 15 psi pressure at 250 deg. F but may also have a vacuum drawn. A 24 inch diameter butterfly valve on top of each kettle provides vacuum sealing by a Bray Controls pneumatic valve.
Internal surfaces including the dual-motion agitator are polished stainless steel for ease of cleaning. The agitator's 20 HP top-mounted motor requires a 3 phase electrical supply at 230 or 460 volts and 60 Hz. Agitation speed may be varied through the included Allen-Bradley PanelView digital control panels.
Product discharges through a 4 inch diameter flush mounted center bottom ball valve, and this sanitary Lee design ensures quick and complete kettle emptying.
If these 1,500 gallon used cooking/cooling kettles are larger than is needed, buyers should look at the other kettles in Wohl Associates' inventory. For example, an 80 gallon used Groen self-contained electric kettle may be a better choice.
Constructed of stainless steel with a hinged lid and a jacket rated 30PSI at 300 Deg. F., National Board and code stamped, this is ideal for processing smaller quantities. Mounted on legs, this kettle has a 1.5 inch tri-clamp discharge and requires a 3 phase 240 volt, 60 Hz electrical supply.
Pictures of these kettles and many others like them may be viewed on the Wohl Associates website, http://www.wohlassociates.com. Buyers with specific needs should consult a Wohl Associates product specialist to discuss the possible future availability of suitable equipment.
About Wohl Associates
Wohl Associates is a leading dealer in the used processing and packaging machinery industry. With a history and solid reputation spanning over 40 years, they have earned the trust of their clients by offering quality pre-owned equipment, expert customer service and invaluable knowledge to their customers. They treat each customer on an individual basis and customers are provided the highest level of service. With a large inventory including cartoners, ribbon blenders, stainless steel tanks, unscrambling tables, colloid mills and vitamin manufacturing equipment.
Wohl Associates has the pre-owned machinery to fit any production line. To view their inventory and learn more, visit them at http://www.wohlassociates.com/.