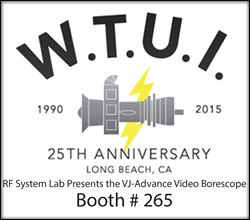 Traverse City, MI (PRWEB) March 11, 2015
The VJ-Advance video borescope will be traveling cross-country next week for the Western Turbine Users Inc. (WTUI) Conference, taking place in Long Beach, CA. The conference, which occurs March 15-18, 2015, consists of technical breakout sessions for the GE LM2500, LM5000, LM6000, and LMS100 lines of engines.
According to the conference website, the event will also feature technical presentations by industry experts on various environmental, operations, and maintenance issues surrounding operations of gas turbine power plants. Also offered at this year's conference is a 25th Anniversary Celebration on Monday night, golf and tennis tournaments, and exhibits featuring the latest turbine technology.
RF System Lab is looking forward to being featured as one of those exhibits and will be providing demos of the VJ-Advance video borescope. The VJ-Advance, which is the ideal turbine inspection tool, assists maintenance experts to confirm the internal conditions of turbine engines. Remote visual inspection with high-quality video borescopes is crucial for checking for FOD, cracks in turbine blades, or corrosion. Casey O'Tool, RF System Lab Senior Sales Consultant, will be onsite to provide more information to interested turbine professionals and answer questions about borescope applications.
Stop by RF System Lab's exhibit at booth #265 starting 9:00 am on Monday, March 16th to test the ground- breaking VJ-Advance video borescope.
To learn more about the Western Turbine Users Inc. Conference, view their event information here.
If interested parties are unable to attend the conference, they can still checkout the VJ-ADV articulating video borescope on the RF System Lab website! For more information, call us toll free at (888) 747-6526.