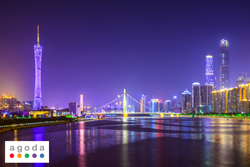 Guangzhou's Canton Fair is one of the world's most important events for importers, exporters, and retailers. To help delegates and tourists alike enjoy the fair, Agoda.com is providing great deals on accommodation.
Singapore (PRWEB) March 11, 2015
Agoda.com, one of Asia's leading hotel booking sites and part of Nasdaq-listed Priceline Group (Nasdaq: PCLN), has announced early bird hotel deals in Guangzhou, China to prepare for the 117th China Import and Export Fair, also known as the Canton Fair.
Huge crowds of importers, exporters, and manufacturers from around the world come each year to this event, one of the world's largest trade fairs. As China's role as "the world's factory" has continued to grow, the twice-yearly Canton Fair has emerged as a must-attend event for savvy businesses from around the world who want to stay ahead of the competition when it comes to manufacturing and distribution. As with any event of this magnitude, hotel rooms are usually booked far in advance.
This year the event takes place over three 5-day phases at the China Import and Export Fair Complex. Phase 1 is from 15-19 April; phase 2 is from 23-27 April; and phase 3 is from 1-5 May. The previous session, held in November 2014, saw over USD $29 billion in sales, so bookings need to made early.
In addition to the fair, Guangzhou itself is also well worth visiting. Part of the vibrant Pearl River Delta region, the giant city is a regional hub of tourism, real estate, education, finance and politics. Cultural attractions, historic architecture, fabulous shopping, and of course, authentic Cantonese cuisine are highlights that visitors continue to talk about long after they've gone home.
To see a list of properties offering great deals, visit the Agoda.com Media Room. Book now for stays from 14 April – 4 May, 2015, and have a great Guangzhou experience!
To learn more about the Canton Fair, visit their website.