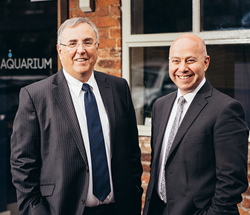 Aquarium has a lot to be optimistic about and, with the right approach to market, I'm confident 2015 will be another great year in the company's expansion.
(PRWEB) March 12, 2015
UK and US based insurance technology leader, Aquarium Software, has announced the senior appointment of a former Vice Chairman of Manchester City FC to the position of Strategic Development Director, with a clear brief to continue the firm's meteoric rise to the top of the premier league of the world's insurance platform software houses.
Bryan Bodek joins Aquarium with immediate effect and his wealth of business and commercial experience will prove invaluable as the firm's profile continues to grow on the global stage and in the expanding North American pet insurance market in particular. Former CEO of Airline Services Limited, Managing Partner of Kuit Steinart Levy, former chairman of Medical House PLC and former vice chairman of Manchester City FC, Bodek will continue in his role as Chairman of NovaBiotics Limited and Vice Chairman of The University of Manchester I³ Limited, while offering the Aquarium board the benefit of his significant business insight.
"I am delighted to be joining Aquarium Software at what is a turning point in its development from UK rising star to a serious player at the global insurance table," said Bodek. "My main role will be to realign medium to long term strategy to deliver best value for all stakeholders, and I am very much looking forward to taking up the challenge."
Aquarium is now focused on commercialising and realising its new found status as a thought leader and technology pioneer in business process software, especially in the insurance industry and volume claims markets, where Bodek believes the firm can flourish with intuitive and highly scalable solutions.
"I will be ensuring the company takes on and adopts the correct products and most importantly develops into the most promising markets," added Bodek. "The pet insurance market is a good example as the company moves to ensure its pet technology platform reaches maximum potential. Aquarium is already a great company with great people and ambition. The technology is now proven and what we need to do now is achieve the fastest market share in the most effective and timely manner."
"We are delighted to welcome Bryan to the board of Aquarium," said Aquarium Director, Andrew Sherwin. "It goes without saying that Bryan's appointment is a notable coup for our company and his experience is going to be invaluable as we develop our presence not just in the traditional UK markets, but also as a recognised global brand. There are a number of unique opportunities opening up in the marketplace and we need to do all we can to make the right choices," concludes Andrew.
Bryan adds, "Aquarium has a lot to be optimistic about and, with the right approach to market, I'm confident 2015 will be another great year in the company's expansion."
Aquarium Software is currently being implemented by a number of key insurers, and affinity partners in the UK, Europe, USA and Canada. For further information contact Aquarium Software on +44 (0)161 927 5620 or visit http://www.aquarium-software.com