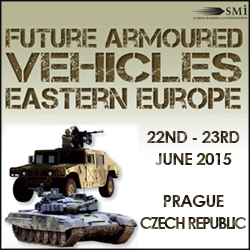 7 Flag Officers confirmed to speak at Future Armoured Vehicles Eastern Europe 2015, making this the most senior armoured vehicles meeting in the region.
Prague, Czech Republic (PRWEB UK) 12 March 2015
Against this backdrop and based on over 20 years of experience organising high level defence meetings, SMi Group announces its Future Armoured Vehicles Eastern Europe Forum will be taking place in Prague, Czech Republic, on the 22nd-23rd of June 2015. This Eastern Europe's most focused and Senior Armoured Vehicles Conference is designed to unite armoured vehicle procurement and technology experts with one goal, to enhance existing and future land forces capability through the effective deployment of military vehicles.
Official website: http://www.smi-online.co.uk/2015avtaf44.asp
7 Flag Officers confirmed to speak at Future Armoured Vehicles Eastern Europe 2015, making this the most senior armoured vehicles meeting in the region. 2-day event programme includes 19 military briefings from the Czech Republic, Poland, Slovenia, Slovakia, Lithuania, Austria, Norway, the Netherlands, NATO and UK.
"The speakers are carefully chosen representatives of participating countries and it is pleasure to be a member of such a distinguished group." - Brigadier General František Micánek, Director, Centre for Security and Military Strategic Studies, University of Defense, Czech Republic.
SMi Group is delighted to announce that Brigadier General Pavel Adam, Director of the Division of Capabilities Development and Planning, General Staff, Czech MoD, will be speaking on Day 1 of the Conference. In his presentation entitled "What Do the Armed Forces of Tomorrow Need Today?" Brigadier General will look at what the Czech Army needs for future force modernisation, at the force structure and capability plans of the Czech Armed Forces by 2020 and where do the Czech Armed Forces fit into future NATO and international coalition operations and peacekeeping.
Event attendees will hear the latest updates on APC Modernisation For The Czech Land Forces (Speaker: Brigadier General Ladislav Jung, Land Forces Deputy Commander, Czech Armed Forces , Czech Armed Forces), Slovak Republics Current Armoured Vehicle Capability and Future Needs
(Speaker: Colonel Robert Tibensky, Director General National Armaments, Slovak MoD), Lithuanian Armoured Forces Priorities (Speaker: Lieutenant Colonel Mindaugas Steponavicius, Director of Capability Planning Department, Ministry of National Defence Republic of Lithuania); The Royal Netherland and German Army - BOXER 8x8 All Terrain Heavily-Armoured Utility Vehicle (Speaker: Colonel Egbert Treeuw, Programme Manager BOXER, OCCAR), Austria's Approach to Active Protection Systems (Speaker: Brigadier General Norbert Huber , Director Armament and Procurement, Austrian MoD), An Update on the Slovenian 8x8 Armoured Vehicle Procurement (Speaker: Miha Matek, Head of Armaments Project Management Division, Slovenian Ministry of Defence), An Update on Poland's Armoured Vehicle Modernisation Programme (Speaker: Brigadier General Slawomir Wojciechowski, Director of Strategy and Defence Planning, Polish Armed Forces, Polish MoD). Plus, event programme also includes presentations from high ranking military representatives from Danish Army Combat School, DSTL (UK), Defence and Security Association of the Czech Republic...
Post conference masterclass - How to do business with the Czech Armed Forces, hosted by Lieutenant Colonel Richard Macha, Industrial Cooperation Division, Czech MoD, will be taking place on the 23rd of June 2016. This unique and informative masterclass will allow its attendees to understand the procurement process within the MoD from 'contract to contact to contract.' Topics covered will include: Understanding how the Czech MoD issue RFI's, Tenders and down selects, which are the right departments to approach and how best to do this, when you need to partner with local industry to make your opportunity more effective, how to work effectively with Czech companies and current and predicted Future Armoured Vehicles Requirements and types of equipment likely to be considered/selected.
The official event partner for Future Armoured Vehicles 2015 is the Defence and Security Industry Association of the Czech Republic (DSIA). Sponsors: Lockheed Martin, Denchi Power and Schroth Safety Products
Sponsorship enquiries: contact Sadia Malick on +44 (0) 207 827 6748 or smalick(at)smi-online(dot)co(dot)uk
Delegate enquiries: contact Michail Nazarenko, on tel +44 (0) 207 827 6002, mnazarenko(at)smi-online(dot)co(dot)uk
Contact for media-partners: Julia Rotar, jrotar(at)smi-online(dot)co(dot)uk
Future Armoured Vehicles Eastern Europe
22-23 June 2016
Dorint Hotel Don Giovanni Prague, Czech Republic
http://www.smi-online.co.uk/2015avtaf44.asp