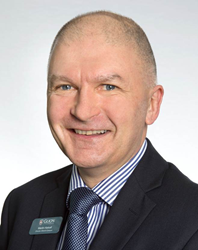 Clarens (PRWEB) March 12, 2015
Glion Institute of Higher Education, one of the world's top three institutions of higher education for an international career in hospitality management, appointed Martin Halsall as Campus Director of its campus in London, effective February 18, 2015. The Glion London campus, hosted by the University of Roehampton in the Western part of the city, opened in 2012.
"Martin brings a wealth of experience to Glion and we are delighted to draw on his expertise during this important stage in the growth of our London campus," said Judy Hou, CEO of Glion Institute of Higher Education. "His strong background in the field of education in the UK and abroad will be of great value to our diverse international student body. We are also excited to have a former senior officer of the Royal Air Force at the helm of our campus and know that our students will benefit from his considerable leadership expertise."
Halsall has extensive professional experience in the field of education. Most recently, he held the post of Chief Operations Officer (COO) at Study Group, an organization that prepares international students for university programs in the UK. Halsall has also served as CEO of the English language schools group, the King's Group in Madrid, Spain; as COO of INTO University of East Anglia and INTO City University in London; and as founding principal and subsequently, director of External Engagement & International at the Greenwich School of Management.
Before embarking on a career in education, Halsall served in the Royal Air Force (RAF). During his long and successful career, he held senior positions within the RAF and NATO, in the UK, Germany, Norway, Italy and Cyprus. At the end of his service in the RAF, Halsall held the rank of Air Commodore.
Halsall holds a masters-level award from the Canadian Forces College Joint Command and Staff Program (Toronto) and an MBA from the University College London's Institute of Education.
For more information on Glion Institute of Higher Education, please visit http://www.glion.edu.
###
About Glion Institute of Higher Education
Founded in 1962, Glion Institute of Higher Education is a private Swiss institute that offers undergraduate, graduate and post-graduate programs in the fields of hospitality, tourism, and events, sports and entertainment management. Glion is accredited at the university level by the NEASC and ranked by luxury hotel hiring managers among the top three hospitality management schools in the world for an international career (TNS Global Survey, 2013). Glion is located on three campuses in Switzerland and the UK: in Glion, above the famous resort of Montreux on the shores of Lake Geneva; in Bulle, in the heart of the Gruyère region; and in London. Glion has the unique advantage of offering its international student body an ideal, safe and multicultural educational environment. For more information, visit http://www.glion.edu. Glion is part of Laureate Hospitality Education, a leading hospitality management education group http://www.laureatehospitality.com.
PRESS CONTACT
Alexia Robinet
Senior International Public Relations Manager
Phone: +41 (0)79 310 81 93
alexia.robinet(at)laureate(dot)ch