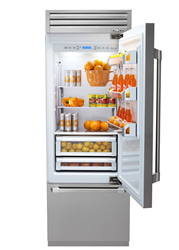 The new abilities of Dacor products revolutionize the cooking experience for home chefs, ushering in a new era of convenience in the kitchen -- Dacor CEO Chuck Huebner
NEW YORK, NY (PRWEB) March 12, 2015
Celebrating 50 years of cooking innovation, Dacor®, manufacturer of ultra-premium kitchen appliances, will showcase the addition of voice activation to its line of smart kitchen appliances at the Architectural Digest Home Design Show.
"We are demonstrating innovative features that make Dacor kitchen appliances even smarter," said Dacor CEO Chuck Huebner. "The new abilities of Dacor products revolutionize the cooking experience for home chefs, ushering in a new era of convenience in the kitchen."
Tweet This: .@DacorKitchen to show its new voice-controlled iQ range @ADHomeDesign #ADHDS2015 http://ctt.ec/C3768+ Visit booth 335
This spring, the Dacor iQ Remote App will be enabled to accept voice commands. This new component allows the unparalleled ability to monitor and control connected Dacor appliances with the Dacor iQ Remote App. Whether entertaining outdoors, strolling the aisle of a grocery store or running late from the office, Dacor customers can now control their iQ products remotely and hands-free.
The new Discovery® Fully Integrated Refrigerators will also be highlighted at the Architectural Digest show. Meeting the demands of today's home chefs, the refrigerators include features designed to enhance the kitchen experience. One of the most noticeable features is the new GlideShelf™ technology allowing for smooth, single-handed shelf and bin repositioning. Home chefs will also appreciate the SoftShut™ drawers and FlushFit™, a patented hinge system, which allows the door to swing clear of adjoining cabinetry, so seamless integration is possible. With the ability to add custom paneling, the Discovery Fully Integrated Refrigerators can blend cleanly into any kitchen design.
"We look forward to connecting with the most influential designers, architects, media professionals, and consumers at the show," states Dacor President Steve Joseph. "With more than 40,000 visitors expected to attend, it's the ideal venue to showcase our award-winning products."
Dacor will also showcase some of its other industry-leading kitchen appliances including:

DacorMatch™ Color System: Allows the most fashion-forward home chefs to choose virtually any color for their appliances.
Discovery iQ™ 30" Wall Oven: The world's first wall oven to feature the integrated Discovery iQ Controller for Android™.
Renaissance® 30-inch Induction Range: An induction range with Four Induction SimmerSear™ Zones for powerful and precise heat distribution.
Discovery WineStation®: Enjoy wine just as the vintner intended for up to 60 days without the loss of flavor or natural aroma.
The 14th annual Architectural Digest Home Design Show will feature new product launches, design lectures and seminars, culinary demonstrations, wine tastings and more. The show will take place March 19 through 22, 2015, at Pier 92 and 94, 55th Street at Twelfth Avenue, New York.
Visit Dacor at booth 335 and enter to win a Dacor Renaissance® Wine Cellar, valued at $1,399.
# # #
Media Notes:
Dacor's innovative appliances have been recognized with many prestigious awards and accolades including:
2015 United Servicers Association Partnership Award
Tested and recommended by Le Cordon Bleu
Digital Trends Best of Consumer Electronics Show (CES) Home Award
Kitchen & Bath Industry Show (KBIS) Best in Show
Kitchen & Bath Industry Show (KBIS) Best of Kitchen – Gold
Kitchen + Bath Business (K+BB) Product Innovator Award
2013 and 2014 GOOD DESIGN™ Awards
CES Envisioneering Innovation & Design Award Honorees
Better Homes & Gardens Kitchen + Bath Ideas 30 Most Innovative Products Award
For more information about Dacor and its products, visit http://www.dacor.com.
About Dacor: Celebrating its 50th anniversary, Dacor is a manufacturer of ultra-premium kitchen appliances. Designed and built in California, Dacor's cooking appliances integrate function and technology to create high-performing, intuitive products that reflect the lifestyle and needs of the passionate cook. Since 1965, Dacor has been responsible for many of the innovations that have improved the way people cook in the modern kitchen. Dacor is family-owned and embraces the legacy, heritage and expertise of a third generation to lead the company into a new age of cooking innovation. Dacor is also the first and only ultra-premium appliance brand to be tested and recommended by the Master Chefs of Le Cordon Bleu. Le Cordon Bleu is considered the world's most respected culinary arts and hospitality educator.