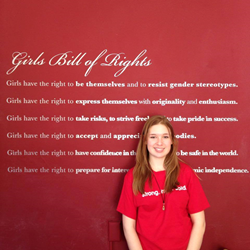 Girls Inc. helps empower girls in our community so that they feel strong, smart and bold from a young age
Santa Fe, New Mexico (PRWEB) March 18, 2015
Girls Inc. of Santa Fe announces it will celebrate its 60th anniversary this year with an alumnae reception and a parade to the Plaza with birthday cake for girls and guests during National Girls' Rights Week in May; additionally, the Hillside Avenue based organization will host its 43rd annual Arts and Crafts Fair fundraiser on the plaza as well as participate in LunaFest.
"Girls Inc. helps empower girls in our community so that they feel strong, smart and bold from a young age," said Kim Brown, Executive Director of Girls Inc. "1 in 4 girls in our state have reported being victims of sexual violence, while 40% of girls in the Santa Fe public schools do not finish high school. New Mexico also has the highest teen birth rate in the nation. With these statistics facing the girls in our community, it is critical that we provide them with an environment that is safe where they learn crucial skills for their futures.
Girls Inc. Santa Fe will host the following events:
NATIONAL GIRLS' RIGHTS WEEK
WHAT: Celebration of girls' rights across America
WHEN: First week of May (5/4-5/8); on May 6, Wednesday, Girls Inc. will host a reception for alumnae and on May 8, Friday parade (time will be determined at a later date) with girls headed from Hillside Avenue to the Plaza to have birthday cake
WHERE: Alumni reception will take place at The Owings Gallery, 120 East Marcy Street Santa Fe, NM 87501
COST: None; alumni RSVP to Melanie Buchleiter 505-982-2042
43RD ANNUAL GIRLS INC. ARTS AND CRAFTS SHOW
WHAT: A juried show featuring the work of over 150 local and national professional artists; the third largest market on the plaza annually featuring fiber art, jewelry, painting, pottery, sculpture, metal work, wood work, photography, specialty foods
WHEN: Saturday August 1 and Sunday August 2, 2015
WHERE: On the historic Plaza
COST: Free
LUNAFEST
WHAT: LUNAFEST, founded in 2000 by LUNA, the makers of the nutrition bar for women, is a traveling film festival spotlighting the work of talented women filmmakers connecting their stories and causes through short works; afterward, a silent auction will benefit Girls Inc. of Santa Fe and the Breast Cancer Fund
WHEN: November 7, Saturday
WHERE: TBD; (505) 982-2042
COST: TBD
To donate to Girls Inc. Santa Fe, go here: http://girlsincofsantafe.org/get-involved/donate
For more information about Girls Inc. of Santa Fe, contact:
Kim Brown
Executive Director
kbrown(@)girlsincofsantefe(.)org
301 Hillside Avenue
Santa Fe, NM 87501
Hillside Center: (505) 982-2042
Fax: (505) 982-0797
http://www.girlsincofsantafe.org
For media inquires, contact:
Jennifer Hobson-Hinsely
Jennifer(@)jlhmedia(.)com
505 603 8643
###
ABOUT GIRLS INC. OF SANTA FE: For 60 years, Girls Inc. of Santa Fe has inspired girls to be Strong, Smart and Bold. We provide girls throughout Santa Fe with life-changing experiences and real solutions to the unique issues girls face. Girls Inc. gives girls the tools and support they need to succeed, including trained professionals who mentor and guide them in a safe, girls-only environment, peers who share their drive and aspirations and research-based programming. At Girls Inc., girls learn to set and achieve goals, boldly confront challenges, resist peer pressure, and see college as attainable. Our programming focuses on healthy living (Strong), academic enrichment and support (Smart) and life skills and independence (Bold).