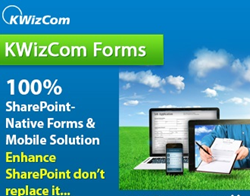 KWizCom Forms is designed to provide a powerful, yet a pocket-friendly solution for both large and small companies
Toronto, ON (PRWEB) March 12, 2015
KWizCom, a leading developer of SharePoint Forms & Mobile Solution, as well as multiple other cutting-edge web parts and add-ons designed to expand Microsoft SharePoint, announced a major version release of KWizCom Forms. This new release brings the add-on to a new level of functionality and maturity which includes some additional powerful features.

Customers will be relieved to find out that now they can include external data in their KWizCom Forms!
No matter which SharePoint edition customers are using (can be SharePoint Foundation or server), non-technical end-users can easily use external data retrieved from LOB systems or any external web source.
Form Settings Import/Export
This newly-added feature enables clients to effortlessly and quickly export their forms settings from dev/test environment and import them to their production environment.
"KWizCom Forms is designed to provide a powerful, yet a pocket-friendly solution for both large and small companies. As part of the product roadmap, the KWizCom Forms app for O365 will be announced close to the Microsoft Ignite event," says Nimrod Geva, the Product Group Manager of KWizCom Corporation.
KWizCom Forms is a SharePoint add-on that turns existing SharePoint list forms into rich, enhanced web & mobile forms. With this top-notch add-on users can easily create custom forms by rapidly enhancing existing list forms. KWizCom Forms is 100% SharePoint-Native which means there is no need to deploy and learn new, external form tools.
For more information on KWizCom Forms and to view its complete list of key features and benefits, please visit the product's webpage. If you would like to find out first-hand what the software it like, KWizCom offers a no-cost 30 day trial version of KWizCom Forms. Click here to download.
Follow KWizCom on Twitter @KWizCom
Become a fan of KWizCom on Facebook: https://www.facebook.com/KWizCom
Join KWizCom on LinkedIn http://www.linkedin.com/company/kwizcom
Contact a KWizCom Account Specialist at +1-905-370-0333/+1-855-KWIZCOM or info(at)kwizcom(dot)com
About KWizCom Corporation
Since 2005, KWizCom has provided innovative solutions and services to make SharePoint even better for over 5,000 companies worldwide. KWizCom's solutions and services expand Microsoft SharePoint out-of-the-box capabilities, streamline workflow, maximize efficiency and enhance over-all productivity for hundreds of thousands of users. KWizCom, a Gold Certified Microsoft Partner, is headquartered in Toronto, Canada. KWizCom's mission is to provide clients with high quality products geared toward the perfect solution for their business goals, which is always bundled with great service and exceptional customer support. KWizCom Software is available to federal, state & local government agencies through GSA IT Schedule 70 Contract. Please visit www(dot)kwizcom(dot)com to find out more about KWizCom's clients, people, partners and solutions.