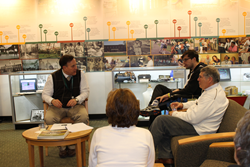 "I'm honored to be able to tell the Burke story and inform people about the great work Burke has done over the last 100 years," said Richard Sgaglio, Ph.D.
White Plains, New York (PRWEB) March 13, 2015
Burke Rehabilitation Center, the only acute rehabilitation hospital in White Plains, NY, continued its year-long celebration commemorating its centennial year with a lecture by Burke's Director of Marketing & External Relations, Richard Sgaglio, Ph.D. The lecture took place at the hospital's new lobby exhibit, which was unveiled in January and celebrated with a ribbon cutting attended by Burke researchers, community members and local dignitaries.
Sgaglio's lecture gave attendees an overview of Burke's influence on Westchester County and the ever-changing field of rehabilitation medicine and research. He gave listeners a sense of the "then" and "now" of Burke's research, comparing and contrasting artifacts in the exhibit with the latest in rehabilitative technology, such as early prosthetics and the latest in 3-D printing for limbs. He discussed the exhibit's historical items and documents and how they contribute to our understanding of Burke's rehabilitative work in the wake of two world wars and the evolving medical landscape. Artifacts in the exhibit include original blueprints of Burke's campus dating back to the turn of the century, medical equipment and an authentic World War I uniform.
"I'm honored to be able to tell the Burke story and inform people about the great work Burke has done over the last 100 years and the impact it's had on the field of rehabilitation. Burke's centennial year marks an important milestone for the hospital and proves that the work Burke researchers and scientists are doing is paving the way for the future of rehabilitation," said Richard Sgaglio, Ph.D.
Burke lectures take place at 4:30 p.m. on the first Wednesday of every month. The next lecture will take place at Wednesday, April 1, in the lobby exhibit of Burke's Wood Pavilion. An occupational therapist from Burke will be discussing the history of the field and how Burke was a pioneer in occupational therapy from the onset. On June 3, Burke will welcome Sam White to its campus. He is a respected architect based in New York City and the great grandson of Stanford White, one of the architects of McKim, Mead and White, the architecture firm responsible for Burke's campus and the original New York Penn Station.
In addition to this lecture series, Burke's year-long centennial celebration will include its annual Heels & Wheels 5K race on May 3, where able-bodied and disabled runners can compete side-by-side for fun and prizes. On June 16, Burke will hold its Burke Award Centennial Dinner to honor members of the Burke community who have demonstrated excellence in commitment to rehabilitative care. Friday through Saturday,Oct. 9-10, Burke will host the Neurorehabilitation Symposium, inviting leading researchers and scientists to Burke's campus for impressive lectures and think tanks led by the best and brightest in rehabilitative research. The symposium will be followed by a fun-filled, family-friendly
Community Birthday Extravaganza event on Saturday, Oct. 10, which is free to the public and will offer games and activities, food and entertainment.
More information on the lecture series and Burke's upcoming events throughout 2015 is available at http://www.burke.org/100years.
About Burke Rehabilitation Hospital
Burke Rehabilitation Hospital is a private, not-for-profit, acute rehabilitation hospital. Founded in 1915, it is the only hospital in Westchester County dedicated solely to rehabilitation medicine. Burke offers both inpatient and outpatient programs for those who have experienced a disabling illness, traumatic injury or joint replacement surgery. The hospital is part of Burke Rehabilitation Center, which also includes Burke Medical Research Institute and Burke's Outpatient Division. Burke's world-renowned doctors and therapists provide state-of-the-art treatment while its research scientists explore the frontiers of neurological and rehabilitation medicine. All share the Burke mission to ensure that every patient makes the fullest possible recovery from illness or injury regardless of their ability to pay. For additional information on Burke Rehabilitation Center, please visit burke.org.
###