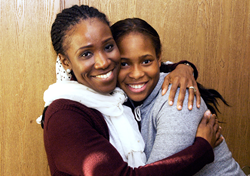 Words cannot express my thanks for what she did. She's a nice person; she's going to be blessed for doing what she's doing. She's a kind person. She's not a typical person. She saved my life.
DETROIT, MICHIGAN (PRWEB) March 16, 2015
The Final Call (FinalCall.com) publishes article, 'An Unparalleled Act of Love' which details the story of a Muslim who gives the gift of life to one of her Christian students in a show of courage and an example of faith and religious principles. The news organization is set to follow up the exclusive report with a series on Blacks and organ donations.
Eighteen-year-old student, A'ja Booth suffered for four years from kidney disease while waiting for a suitable donor to be found until Westside Academy High School teacher, Nadirah Muhammad donated her kidney last December.
The need for African Americans to donate suitable kidneys for transplants is disproportionately high. Because of increased levels of high blood pressure and diabetes existing within the Black community, the need is greater; however, it is for those very same reasons the suitable donor pool is smaller.
According to statistics from the Organ Procurement and Transplantation Network (OPTN), almost 35 percent of the more than 100,000 people on the national waiting list for kidney transplants are Black.
While it is possible to find a kidney match from a member of a different race, according to the Mayo Clinic, which is the first and largest integrated nonprofit medical group practice in the world, "all individuals waiting for an organ transplant will have a better chance of receiving one if there are large numbers of donors from their racial/ethnic background. This is because compatible blood types and tissue markers—critical qualities for donor/recipient matching—are more likely to be found among members of the same ethnicity."
The Final Call reports that mistrust due to America's nefarious dealings and unethical medical experimentation with Blacks, and poor health facilities existing in Black communities are factors; however, frank and honest discussions regarding organ donations within Black communities are long overdue.
There are many questions regarding donating organs, as well as the decision-making process which determines who receives donated organs and when. The Final Call's Ashahed M. Muhammad, an investigative reporter and researcher, will delve into this, as well as illegal organ trafficking and organ harvesting taking place in America and abroad in a series of articles.
The Final Call's report, 'An Unparalleled Act of Love' was published in its current edition and on the web at http://goo.gl/y2IQqV
About The Final Call:
The influential Final Call serves a readership of diverse economic and educational backgrounds. It includes circulation in North America, Europe, Africa and the Caribbean.