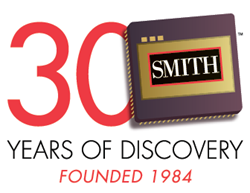 The rich environment of Bangalore is a place of growth and innovation, and is a prime place for us to expand our reach and services.
HOUSTON, TX (PRWEB) March 13, 2015
Smith & Associates, the largest independent distributor of electronic components, today announces the opening of its Bangalore, India sales office. This office will provide Smith a strategic base of operations for expanding into this region and supporting new and current local customers.
As India's IT hub and the home of many technology companies in its electronic industrial parks, Bangalore is a thriving environment of tech expansion and development. This location will offer unique resources and opportunities to Smith as the company works to establish a foundation and increase market penetration in this key region. Smith will also utilize this new office to strengthen support to its customers in the region and build relationships with new local partners.
"The rich environment of Bangalore is a place of growth and innovation, and is a prime place for us to expand our reach and services," said Lee Ackerley, co-founder and -owner of Smith & Associates. "Smith's global footprint is broad, affording us the greatest mobility across supply chains worldwide and letting us support customers anywhere in the world."
Smith's Bangalore office is its fourteenth worldwide. It joins five offices in North America, seven in Asia, and Smith's European hub in Amsterdam.
"Service and customer relationships are at the heart of our business," said Lee. "Smith is built on the long-standing partnerships we have with customers as we build solutions and strategies for them beyond just shortage sourcing and procurement. The Bangalore office offers us the chance to provide our customers in India and its surrounding regions the same localized service that has made Smith the industry leader in independent distribution worldwide."
About Smith & Associates
Founded in Houston in 1984, Smith & Associates is a leader in the independent distribution of semiconductors and electronic components to electronics and high-tech manufacturers. Smith offers shortage sourcing for commodity and obsolete parts, innovative purchasing and inventory management solutions, redistribution of excess inventory, and component stocking for warranty and repair programs.
A privately-held company, Smith & Associates employs more than 350 people worldwide, with annual revenue in excess of US $747 million. Smith's regional hubs in Houston, Hong Kong, and Amsterdam are ISO certified. In addition, sales and purchasing offices are located in Austin, Silicon Valley, Guadalajara, New York, Shanghai, Shenzhen, Seoul, Singapore, Taipei, and Penang. For more information, see http://www.smithweb.com/ or, to reach a Smith representative 24 hours a day, please call: 1.800.HOUSTON or +1 713.430.3000.
###
For more information, contact:
Mark Bollinger
Smith & Associates, V.P. of Marketing
+1 713.430.3000
mbollinger(at)nfsmith(dot)com