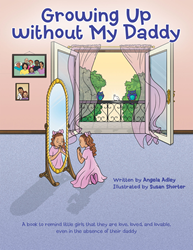 I want to remind little girls that they are love, loved and lovable.
Kent, WA (PRWEB) March 16, 2015
"Mommy, why is daddy not here with me?"
Growing Up without My Daddy author Angela Adley grew up without feeling the unconditional love and security of a father. Despite having a loving family, friends and a passion for tap dancing, she always felt like something was missing.
"When a father is not present, he takes a piece of his daughter's soul with him," Adley said. "Ultimately, fatherless daughters try to fill up that void in all sorts of ways."
Over time, Adley realized that by not acknowledging the truth of those emotional wounds of growing up fatherless, it kept her stuck and unable to move forward and grow beyond her daddy wounds.
In Growing up Without My Daddy, Adley shares her story with other little girls growing up with unavailable, unattached or absent fathers in hopes that they will be able to heal their own daddy wounds through love and faith-based healing. The colorful, interactive book also provides a platform for parents to discuss this topic with their daughters.
"I want to remind little girls that they are love, loved and lovable," Adley said. "And that God, their True Father, will provide all the unconditional love that they seek."
For more information, visit https://www.facebook.com/lovelovedlovable.
Growing Up without My Daddy
By Angela Adley
ISBN: 978-1-4808-1293-2
Available in hardcover, soft cover, and e-book
Available on Amazon, Barnes & Noble and ArchwayPublishing
About the author
Angela Adley is a speech-language pathologist. She earned a bachelor's degree from Fontbonne University and a master's degree from Saint Louis University. She is a member of the American Speech-Language-Hearing Association (ASHA). Adley is a member of New Beginnings Christian Fellowship Church in Renton, Wash., and is a certified Fatherless Daughter Advocate through Angela Carr Patterson's Journey to Being System.
For review copies or interview requests, contact: Jenni Uebelhack
317.602.7137
juebelhack(at)bohlsengroup(dot)com