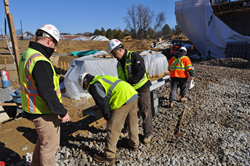 The jobsite has put in place more than 80,000 total man hours on-site with zero lost time incidents."
Annapolis, MD (PRWEB) March 15, 2015
After several months battling the harsh winter of 2015, the work crews at the new Replacement Health Clinic at the United States Naval Academy (USNA) were in full stride yesterday before pausing briefly to celebrate topping out the 101,500 square foot, three-story structure.
Standing among work crews in the basement level and surrounded by pallets of ductwork and piping ready for installation, Turner Construction Company's Project Manager, Craig Kennedy, gave accolades to the work crews citing this very important statistic: The jobsite has put in place more than 80,000 total man hours on-site with zero lost time incidents." This was cause for celebration, and according to Kennedy, "This is a testament to the pre-planning that all of you do on a daily basis and the respect each of you gives the work on-site." He added, "Let's keep this up as we continue to move this project forward."
In his remarks Kennedy stressed the importance of this clinic to the client, that it will replace the outdated, 107-year old structure currently in use. It will house 200 medical personnel and will service on an appointment basis over 420 personnel daily. An important asset to the military community, the new clinic will serve both active and retired service members from all branches of the military, and their families. The clinic program will encompass Primary Care, Orthopedics, Physical Therapy, Dental, Optometry and Mental Health as well as Ancillary, Support and Admin space. The facility also has an Emergency Response support mission and will meet LEED Silver Certification requirements.