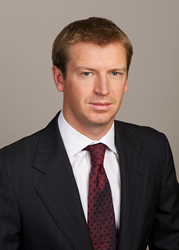 Savills Studley is thrilled to recognize Peter with this promotion, which reflects his persistence, tenacity, and dedication to the firm.
Denver, CO (PRWEB) March 16, 2015
Savills Studley, the leading global commercial real estate services firm, has promoted Peter Knisely to Associate Director at the firm's Denver office. The announcement was made at the annual Winter Trip, an incentive trip combined with a planning meeting of the firm's top producing brokers.
With over a decade of experience in tenant representation brokerage, Peter's primary focus has been office tenant representation, he is also well-versed in office sales, industrial, retail, land, and special use properties. He earned a Bachelor of Science degree in Business Administration with a major in Real Estate and Construction Management from The University of Denver's Daniels College of Business.
"I am proud to have been recognized by Savills Studley through this promotion and am motivated to build upon this momentum and expand the value I bring to the firm moving forward," said Knisely.
Rob Link, Executive Vice President and Branch Manager of Savills Studley's Denver office added, "Peter's attention to detail and ability to clearly communicate enables his clients to confidently execute on their real estate strategy. We are thrilled to recognize Peter with this promotion, which reflects his persistence, tenacity, and dedication to the firm."
About Savills Studley
Savills Studley is the leading commercial real estate services firm specializing in tenant representation. Founded in 1954, the firm pioneered the conflict-free business model of representing only tenants in their commercial real estate transactions. Today, supported by high quality market research and in-depth analysis, Savills Studley provides strategic real estate solutions to organizations across all industries. The firm's comprehensive commercial real estate platform includes brokerage, project management, capital markets, consulting and corporate services. With 26 offices in the U.S. and a heritage of innovation, Savills Studley is well known for tenacious client advocacy and exceptional service.
The firm is part of London-headquartered Savills plc, the premier global real estate service provider with over 27,000 professionals and over 600 locations around the world. Savills plc is listed on the London Stock Exchange (SVS.L).
For more information, please visit http://www.savills-studley.com and follow us on Twitter @SavillsStudley and LinkedIn.