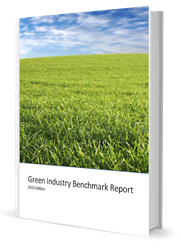 In this webinar, we're going to interpret the data from the Green Industry Benchmark Report and show contractors what actions they need to take."
St. Paul, MN (PRWEB) March 15, 2015
HindSite Software, a leading provider of field service software to the green industry, recently announced they will be hosting a webinar, 13 Revenue Growth Tips from the Green Industry Benchmark Report from 1 to 2 p.m. Central on Thursday, March 26. The webinar will examine in detail data from the 2015 Green Industry Benchmark Report and highlight 13 tips designed to help green industry businesses grow their revenue.
Based on a comprehensive survey of hundreds of green industry business owners and managers, the 2015 Green Industry Benchmark Report is one of the foremost studies on the challenges, services, marketing, education, office and software practices of green industry businesses. Respondents to this year's survey included hundreds of green industry businesses ranging in size from one-person operations to 100+ employee operations throughout North America. Their responses helped uncover overarching business challenges and opportunities smart businesses can leverage to improve their operations and grow their revenue.
"Our Green Industry Benchmark Report includes more than 30 pages of data analysis," explains Chad Reinholz, HindSite's Marketing Manager. "It's a great resource, but some of the actionable takeaways get lost among all the data. In this webinar, we're going to interpret the data and show green industry contractors what actions they need to take."
The webinar is based on a blog post, Grow Your Revenue: 13 Tips from the Green Industry Benchmark Report, released by HindSite Software after the release of the Green Industry Benchmark Report. Webinar attendees will learn:

What one factor was most likely to predict high revenue growth in 2014
Why getting creative when hiring is important
Why and how to act on customer feedback
Why and how to analyze your sales pipeline
"We were shocked by some of the findings in the Green Industry Benchmark Report," Reinholz explained. "For example, businesses with one business attribute were twice as likely to have experienced high revenue growth as those who didn't have that business attribute. It was eye-opening."
Green industry professionals interested in attending the webinar can visit http://info.hindsitesoftware.com/13-growth-tips-from-the-green-industry-benchmark-report-webinar.
About HindSite Software
HindSite Software has helped green industry contractors better manage and grow their businesses with field service management software since 2001. Initially designed as irrigation business software, HindSite today assists service businesses with scheduling and billing (e.g quickbooks scheduling software), contact management, field data collection, and invoicing in QuickBooks® and Sage®. This paperless field service management software has been proven to increase efficiency and organization, meaning greater profit potential with less administrative time.