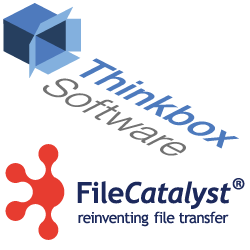 We're excited to be able to offer an Emmy® Award winning accelerated file transfer solution that is secure and reliable, which will greatly benefit our clients
Ottawa, Canada (PRWEB) April 09, 2015
Unlimi-Tech Software, Inc., an Emmy® Award winning pioneer in managed file transfers and the creator of FileCatalyst, an accelerated file transfer solution, is pleased to announce an integration partnership agreement with Thinkbox Software Inc.
Based out of Los Angeles, California, Thinkbox Software develops innovative solutions for visual artists across entertainment, design, and engineering, with the mission to streamline complex tasks in high-performance computing, all while consistently providing remarkable support. Thinkbox's products include Deadline®, a scalable high-volume render management software that allows users to harness resources within their render farms or from private or public clouds.
FileCatalyst technology now integrates into Deadline® for accelerated file transfers, before or after rendering. During the job submission, Deadline® identifies asset paths and creates an asset transfer job that the original render job is dependent upon. FileCatalyst then transfers the assets to a remote location, and Deadline® automatically resumes the render job once the transfer is complete.
As file sizes increase, especially in the entertainment industry, technology users expect a fast, reliable solution for transferring their files, instead of traditional methods of file transfer such as email or FTP. FileCatalyst has a unique, patent pending UDP-based protocol which is immune to network impairments such as latency and packet loss, so it's able to send files in minutes, regardless of size or format, instead of the hours or days file transfer can traditionally take. The FileCatalyst platform is also able to ensure security by incorporating advanced encryption and reliability using MD5 checksums.
"We are always looking for new ways to help our users with asset management tasks," said Chris Bond, founder, Thinkbox Software. "In working with FileCatalyst, we're excited to be able to offer an Emmy® Award winning accelerated file transfer solution that is secure and reliable, which will greatly benefit our clients."
"Thinkbox has a solid reputation in the entertainment, design, and engineering industries," said Unlimi-Tech's Vice President of Business Development, Alan Atkinson. "This integration is a great pairing as it provides their customers with an innovative way of transferring their media files from within their own solutions."
About Unlimi-Tech Software, Inc.
Located in Ottawa, Canada, Unlimi-Tech is an Emmy® Award winning pioneer in managed file transfers and the creator of FileCatalyst, an accelerated file transfer solution. Founded in 2000, the company has more than one thousand customers in media & entertainment, energy & mining, gaming, and printing, including many Fortune 500 companies as well as military and government organizations. FileCatalyst is a software platform designed to accelerate and manage file transfers securely and reliably. FileCatalyst is immune to the effects that latency and packet loss have on traditional file transfer methods like FTP, HTTP, or CIFS. Global organizations use FileCatalyst to solve issues related to file transfer, including content distribution, file sharing, and offsite backups. To learn more visit filecatalyst.com or @FileCatalyst on Twitter.
About Thinkbox Software
Founded by Chris Bond in 2010, Thinkbox Software develops production-proven tools for visual artists and backs each product with highly responsive support. Used across entertainment, engineering and design industries, Thinkbox's products include Deadline® high-volume data management software used to render or process files and several other artist-driven software tools to create, visualize and modify datasets for visual effects, animation and digital simulations. For more information, visit http://www.thinkboxsoftware.com or follow @thinkboxsoft on Twitter.