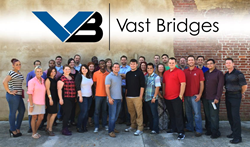 "We believe in the entrepreneurial spirit and birth of Jacksonville as a creative and entrepreneurial hub." - Kevin Conner, CEO of Vast Bridges
Jacksonville, Florida (PRWEB) March 16, 2015
Vast Bridges will give away a total of $7,500 via five $1,500 awards to the top One Spark creators, as chosen by company staff and social media. During the 2015 One Spark event, held in Jacksonville from April 7- 12, creators will present their projects for innovative new businesses, in the hopes of earning significant financial support during the largest crowdfunding festival in the world. The five creators chosen by Vast Bridges will be awarded their winnings immediately via credit card transfer on Sunday April 12th at noon. This will also allow them to use these funds towards the coveted "Most Individual Contributions" prize of $10,000, offered by One Spark.
After being the largest contributor to a single creator project at the 2014 One Spark event and breaking the previous record with its $10,000 donation, Vast Bridges management decided to create an interactive opportunity allowing its staff and the public to help earn even more for the most deserving projects. Vast Bridges employees will select 10 finalists from the 555 projects that will be presented during the five-day event. For this competition, Creator Projects will be judged by Vast Bridges employees based on the following: Business Potential, Creativity / Innovation, Impact to Community / Humanity and Management & Strategic Direction.
The 5 winners will then be determined, in part, by votes received via Twitter. Announcement of the winners will be through the Vast Bridges website, Twitter and Facebook pages.
Vast Bridges founder and CEO, Kevin Conner stated, "We believe in the entrepreneurial spirit and birth of Jacksonville as a creative and entrepreneurial hub. Being less than five years old, we remember well the start-up days and the importance of having a team of believers. We want to be a part of that team for projects that are creative, strategic, impactful and have the potential to succeed."
About Vast Bridges
Vast Bridges is an innovative sales and marketing firm based in Jacksonville. In 2014, it won the Jacksonville Business Journal award for the fastest growing business in northeast Florida and was also named a 2014 Best Place to Work by the same publication. As a part of its mission, Vast Bridges partners with other businesses to help develop their profitability through innovative marketing and sales strategies. Its corporate values include giving back to its dedicated team members and the community at large. Financially supporting innovative new businesses is just one way it has chosen to give back.
# # #