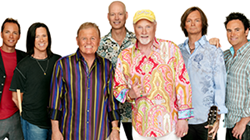 "The Beach Boys can truly say that they stood the test of time. They have created summer anthems that have continued for generation after generation. We know that this show will have the crowd feeling "Good Vibrations" and singing all night
Charenton, La. (PRWEB) March 17, 2015
You won't want to miss the legendary band, The Beach Boys, performing at the Pavilion at Cypress Bayou Casino Hotel on Sunday, May 24.
Over 50 years ago, The Beach Boys graced the music scene with their first hit single, "Surfin" in 1961, and anyone would be hard-pressed to identify one person who doesn't know the song, even today. The band has accrued milestones of success that include being inducted into the Rock and Roll Hall of Fame in 1988, receiving the Recording Academy's Lifetime Achievement GRAMMY award, and have sold over 100 million albums worldwide. The onset of success of The Beach Boys may have started 50 years ago, but their talent as singers, songwriters, musicians, and producers has never faded.
"The Beach Boys are a band who can truly say that they stood the test of time. They have created summer anthems that have continued for generation after generation. We know that this show will have the crowd feeling "Good Vibrations" and singing all night long," said Anthony Patrone, CEO and General Manager of Cypress Bayou Casino Hotel.
The concert presence of The Beach Boys is filled with "Good Vibrations," spirit, and excitement as the crowd dances and sings along to all of their greatest hits like "Kokomo," "I Get Around," "California Girls," and many more. Rounding out the band that will be performing are the founding Beach Boy member Mike Love and Beach Boy-vet Bruce Johnston, as well as Christian Love, Randell Kirsch, Tim Bonhomme, John Coswill, and Scott Totten.
Showtime on May 24 is at 8p.m. and doors open at 7p.m. Tickets start at $60 and can be purchased at Bizzute Gifts at Cypress Bayou Casino Hotel or at ticketmaster.com.
About Cypress Bayou Casino Hotel
Cypress Bayou Casino Hotel is located in Charenton, Louisiana off of US Highway 90 at the Baldwin exit. Phone 1-800-284-4386 for more information, visit the website at http://www.cypressbayou.com, or "like" us on Facebook @CypressBayouCasinoHotel.