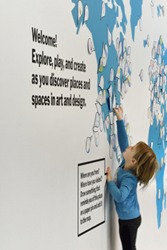 When we heard that MoMA wanted to use our product for their Art Lab, we knew we had to get involved.
Germantown, WI (PRWEB) March 18, 2015
New York City is filled with places and spaces that inspire us and dare us to dream. These special places are what put New York City on the map as a must-see destination.
The Museum of Modern Art (MoMA) is a place that fuels creativity, ignites minds and provides inspiration.
Between now and August 31, 2015, families can visit MoMA Art Lab: Places and Spaces to take a break and get creative with the kids. As part of the Art Lab, visitors are given a blank pin that is inspired by the Google Map Pin (which is in MoMA's collection), and are encouraged to fill it with images or words they think about in relation to a specific place. Kids, along with a little help from their adults, can stick their decorated pin on to a giant world map using Removable Glue Dots, donated by Glue Dots International.
"When we heard that MoMA wanted to use our product for their Art Lab, we knew we had to get involved," said Jack Marsh, Marketing Manager for Glue Dots International. "We are extremely proud to be included in an installation that promotes creativity and exploration with kids and their families."
But MoMA's Art Lab is more interactive and engaging than just a map on the wall. As MoMA states, "In the Lab, visitors of all ages can design, draw, build, and create as they explore places and space in modern and contemporary art," providing opportunities for visitors to respond to art in a tactile way and changing families' ideas about what a museum visit can be.
MoMA's family and kid-friendly activities don't end there either. In addition to being an engaging space for kids, MoMA offers a variety of programs and resources for kids, including art-making workshops, gallery tours, films and more.
So if you're planning a trip to New York City, add a little space to your itinerary and give the kids more memories from a special place on the map with help from The Museum of Modern Art.
For more information about MoMA Art Lab: Places and Spaces, please visit: http://www.moma.org/visit/calendar/exhibitions/1531