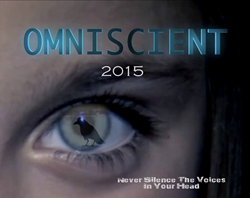 Hollywood, Calif. (PRWEB) March 17, 2015
Bella Luce Productions, in partnership with Raindance Los Angeles, has launched a campaign on Indiegogo, the world's largest crowdfunding platform, for a brand new dark, sci-fi film called OMNISCIENT. Never silence the voices in your head.
SYNOPSIS: A British cult leader kidnaps his estranged teenage daughter to clone her telepathic ability before her mother thwarts his plan to control humanity. The black sheep of a family with a history of telepathic abilities, Lucien forms a cult on the premise of ridding the world of all evil. His ex-wife, Amanda, took their daughter, Grace, when Grace was young and Lucien was becoming more and more sadistic. Now Grace's telepathy is developed and is the strongest Lucien has ever witnessed. Lucien has devised a way to clone Grace's ability to the members of the group...but the clock is ticking. Will he be able to accomplish this feat before Amanda exposes him and his big secret?
Fans can contribute to OMNISCIENT now on [Indiegogo here: http://www.igg.me/at/omniscient
With a solid script in place, the production team is in talks with an acclaimed sci-fi and horror genre director whose last film was picked up by Lionsgate for distribution. Filming is expected to take place in late April/early May with casting already underway.
Please visit the Omniscient Film Official Website for more info.