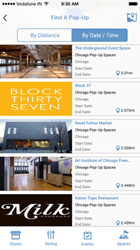 Consumers now will have the ability to find a pop-up event from the convenience of their phone and learn about each pop-up's distinctive offering.
CHICAGO (PRWEB) March 17, 2015
Do you wish a fun, nearby pop-up store or event to patronize would "pop-up" on your phone, pod or pad?
A new mobile app designed to revolutionize the way consumers engage with pop-ups and how brands promote their unique pop-up events is now available from PopUp Republic. The first of its kind in the U.S., the app allows users to find a pop-up near them utilizing several search filters, and is available for iOS including iPhone, iPod Touch and iPad devices for free.
"Our app enhances the discovery, engagement and interaction between pop-ups and their customers, and offers another channel for retailers and restaurateurs to promote and sell their goods," said Jeremy Baras, CEO of PopUp Republic, a social media marketing company focused exclusively on pop-ups – temporary places of business that promote a product or service.
"Consumers now will have the ability to find a pop-up event from the convenience of their phone and learn about each pop-up's distinctive offering.
"For brands, the app enables retailers to connect directly with their customers, something that is critically important given the temporary nature of pop-ups," added Baras. "Now, pop-up merchants can avail themselves of all the sophisticated tools that are being used by the permanent retail and dining industries.
"With this app, we elevate the pop-up industry into the newly-emerging arena of omni-channel marketing."
Pop-ups are populated on the app directly from PopUp Republic's online directory at http://www.popuprepublic.com based on a user's geo-location, allowing consumers to locate nearby pop-ups within seconds. Additional filters by city, address, name, category or timeframe provide search refinement.
"Some pop-ups are hard to find because they are designed to be clandestine, only for those 'in the know,'" said Baras. "For those looking for exclusive pop-up events that might be of interest, there are currently more than 2,000 pop-ups listed on our directory and that number is expected to grow in the coming months."
Other features of the app allow organizers of pop-up venues to add their pop-up to the online directory and create an online store in PopUps Across America, the first national online marketplace where artisans can gain national exposure on a site devoted solely to pop-ups. Consumers can link to PopUps Across America through the app to view and purchase unique goods from merchants all across the country.
"Having a mobile presence has been our goal since we started the company in 2012," said Baras. "Fans of pop-up stores, pop-up restaurants, farmers markets, food trucks, arts & craft fairs, dining events and yard sales, and anyone who is looking to connect with brands and once-in-a-lifetime experiences will be interested in this app."
For property owners looking to promote their venues as potential pop-up spaces, there is a special section on the app for that purpose. Conversely, merchants can search for traditional and non-traditional spaces that can be used for future pop-ups.
Future planned app upgrades will include the ability to add a pop-up into the app itself, a "favorites" feature that allows users to bookmark pop-ups they find interesting, and the release of the app on Android.
PopUp Republic's online directory displays current pop-up happenings throughout the U.S. and Canada, and allows merchants to profile their upcoming pop-ups and consumers to learn more about and attend the events.
Founded in 2012 in Boston and now based in Chicago, PopUp Republic is a leading service provider for the burgeoning pop-up industry. Among its many offerings are PopUps Across America (http://www.popupsacrossamerica.com), the first online shopping mall that features products offered by pop-up merchants, and an online directory that displays thousands of pop-ups occurring nationwide providing a one-stop shop for shopping enthusiasts. More information is available at http://www.popuprepublic.com.
# # #