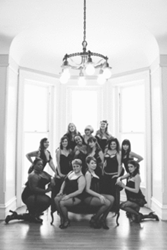 "We are bringing a taste of Las Vegas-style entertainment and fun to Northwest Ohio for good causes, and making it more accessible to the Deaf community,"
Toledo, Ohio (PRWEB) March 17, 2015
The world's only burlesque troupe with an American Sign Language (ASL) translator interpreting every event, the T-Town Tassles will present "Burlesque Through the Decades," featuring Miss Ohio 2011 'Entertainer of the Year,' Deja D Dellataro, March 28. Tickets for this show, where half the proceeds will go to the Collingwood Arts Center, are $15 while supplies last at http://www.brownpapertickets.com/event/1265664, by calling the Brown Paper Tickets event concierges 24/7 at 1-800-838-3006, or through the Collingwood Arts Center during regular box office hours. Tickets will be $20 at the door, if the event has not yet sold out.
"This is a rare opportunity to view classic burlesque by award-winning performers in Toledo," said Brandon Slomski, founder of the T-Town Tassels,Toledo's 'Classy And Sassy' burlesque troupe. The "Burlesque Through the Decades" show marks the troupe's sixth production, and it's 1-year anniversary. Half of the troupe's six productions have been fundraisers for nonprofits, and the T-Town Tassels have already raised more than $2,000 for Collingwood Arts Center through past performances. "We are bringing a taste of Las Vegas-style entertainment and fun to Northwest Ohio for good causes, and making it more accessible to the Deaf community," Slomski said.
In addition to providing this unique form of entertainment for the region, the T-Town Tassels are the only burlesque troupe in the world with an ASL interpreter for all of their events. "I don't know of any burlesque troupe that offers an ASL interpreter as part of every show," said Jimmy Berg, burlesque industry specialist for Brown Paper Tickets, the largest seller of burlesque event tickets in North America.
Emmah Artino of Toledo is a CODA (Child of a Deaf Adult), a native ASL user and is married to Joseph Artino, who is also Deaf. In July 2014 Emmah saw a promotion for the first T-Town Tassels show the weekend of her husband birthday and wanted to attend. There were concerns of accessibility, as ASL interpreters are not automatically provided at live performances. She contacted Tassels founder Barry Aslinger with hopes there could be an interpreter. "Barry said 'yes, of course' without hesitation or question. It was such a relief," said Artino. "Joey and I had yet to ever go out and experience local, live entertainment with friends and all of us have equal access and enjoy the performance. "
Since that first show, Emmah has become actively involved with the T-Town tassels, interpreted "Burlesque in Neon" with Delta Kimmel of Belleville, Michigan, and will be the interpreter for all future shows. Artino has also been working closely with Collingwood Arts Center director, Lexi Staples, to ensure all performances at the CAC will have interpreters provided.
A free raffle ticket for prizes such as iTunes and Google gift cards,T-shirts and more will be distributed to every audience member at "Burlesque Through the Decades." Soda, water, beer from Pabst to Red's to Miller Lite and Maumee Brewing Co., wine and popcorn will be available for purchase, and there will be a designated area for the Deaf community, as well as balcony seating.
For more information, go to https://www.facebook.com/ttowntassels.
# # #
EDITOR's NOTE: If you would like high resolution photos or to interview any of the performers or producers of this event, please contact Barry Aslinger at 567-218-9077 or email at TTownTassels(at)gmail(dot)com.