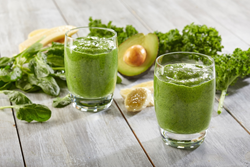 "Better health is not a one-size-fits-all approach, but as a health and wellness professional and also an active woman I know it takes a dedicated, holistic approach to achieve success," said Dr. Wendy Bazilian
Bloomingdale, Ill. (PRWEB) March 18, 2015
For many, New Year's Resolutions may have come and gone by now, but Spring offers a new opportunity to "think clean" and refresh one's perspective on attaining a healthier and more fit lifestyle. Dr. Wendy Bazilian, DrPH, MA, RD and author of "The SuperFoodsRx Diet: Lose Weight with the Power of SuperNutrients" shares her tips on setting new, more healthful and active habits that anyone can easily adopt.
"Better health is not a one-size-fits-all approach, but as a health and wellness professional and also an active woman I know it takes a dedicated, holistic approach to achieve success," said Dr. Bazilian, who is also a wellness spokesperson for NOW®, a leading natural products manufacturer with more than 1,400 high-quality and affordable foods, sports nutrition, dietary supplements and personal care products. "This means creating new, simple strategies that make a healthier routine realistic, from helping you choose more wholesome, real foods to thinking about ways to fit in more exercise, and also being mindful of what you put on your body to look and feel healthy and fabulous."
Dr. Wendy offers these seven strategies and tips to help people spring into their best selves this season and beyond:
1. Make a Morning Routine
Start the day with a personal intention: Wake up, stretch your body from head to toes, take 10 deep belly breaths before rising, and put on a smile. Prepare in advance a healthy breakfast that you can enjoy in no-time each morning like Coconut Flax Crunch Bars, created by NOW's R&D Chef Suzy Singh, that will last you throughout the week. They're easy to grab when on the go and promote long-lasting energy with nutritious ingredients like Sprouted Brown Rice Protein, Organic Hemp Seed Hearts and Macadamia Nuts.
2. Spring Clean Your Shelves
From the kitchen pantry to the bathroom and medicine cabinets, use Dr. Bazilian's 3 R's to Rid, Restock, Reorganize. Rid the pantry and cabinets of items that have been hanging around past their prime or that have artificial ingredients and preservatives or that are high in refined flour or sugars. Restock with items to feel good about and products with whole foods and recognizable, pure ingredients such as NOW's new line of Ellyndale Foods™ Premium Cooking Oils, a unique collection of great-tasting oils with a focus on premium ingredients, innovative flavors, and superior packaging. The oils, which are always natural or organic, non-GMO, and produced in small batches, are available in a variety of flavors to enhance the freshness of favorite recipes (try the Extra Virgin Olive Oil in Chef Suzy's Amaranth & Beet Salad with Goji Coconut Dressing). Use an indelible pen to mark the purchase date and know when to 'rid' next time – it works with supplements and beauty care products, too! And lastly, reorganize by putting those foods and products that you want to choose front and center. To help keep your new routine going strong, store a convenient probiotic in the pantry or medicine cabinet for fast immune system support, such as new NOW® Probiotic 10™ Packets.
3. Unprocess Your Diet
Start with seven days: Drink water or tea only for the week and hydrate often. Have a fruit or vegetable at every meal. Bypass any refined grains and sugars and instead focus on whole grains like Living Now® Organic Tri-Color Quinoa, which is also gluten-free. Make a Green Chia Smoothie that's chock full of plant-based nutrients, or the Cinnamon Chocolate Protein Shake that uses a plant protein like NOW® Sports Plant Protein Complex. Make a goal to have a salad every day at lunch or dinner.
4. Focus on Heart Healthy Fats
Avoid the added trans fats and limit saturated fats from the diet. Instead focus on food sources of fats like heart-healthy salmon, plant-based omega-3 fats from walnuts and flaxseed meal, monounsaturated fats from avocados, coconuts and olives, and high quality oils like NEW Ellyndale Organics™ Coconut Oil Infusions™. These cooking oils combine the heart-healthy benefits and rich taste of coconut oil with bold, inspiring flavors to add zest to recipes and snacks, or can be used as a drizzle or spread.
5. Plan Smart Snacks
Plan snacks for a week or two to ensure healthy snacking. Make a trail mix with raw or roasted nuts and dried fruit or try a high quality, real foods snack mix like NOW Real Food® Nuts About Berries.
6. Move that Body!
Spring clean your body by clearing those cobwebs inside and get moving! Make 30 minutes a consistent everyday goal from either planned exercise or take a 10 minute walk before or after each meal. You can do more time and intensity for heart health and fitness, but make a serious deal with yourself that you'll get a minimum of 20 minutes of purposeful movement (walking counts!) each and every day. And hydrate before and after to optimize your activity. Tea provides great hydration, too, so try NOW Real Tea® PomeGreenate™ hot or cold for an energizing boost.
7. Protect Your Skin
The warmer weather helps bring our active routines outdoors, so there's greater need to protect the skin from the sun and elements. Remember to cover up during peak sunlight and moisturize sun-kissed skin with a natural, preservative-free product like NOW® Solutions Aloe Soothing Gel™.
To request an interview with Dr. Bazilian about natural, energetic and healthy living, please email Alana(at)zapwater.com. All NOW products are available at http://www.NOWFoods.com, and also at health food stores nationwide. To stay up-to-date on NOW Foods news, follow them on Facebook, Instagram and Twitter. For Chef Singh recipes, visit http://www.NOWFoodsblog.com/recipes.
###
ABOUT NOW FOODS:
Founded by Elwood Richard in 1968 on the belief that natural Is better, NOW Foods has grown from a small family operation into one of the most highly respected manufacturers in the natural products industry. Still a family-owned company today, NOW provides customers with a comprehensive approach to wellness by offering more than 1,400 dietary supplements, foods, sports nutrition and personal care products. NOW Foods is committed to offering safe, affordable products of the highest quality, and is a highly regarded advocate in the natural products industry. Its state-of-the-art manufacturing facility in Bloomingdale, Ill., has been GMP (Good Manufacturing Practice)-certified since 2000 and its in-house laboratory capabilities are among the best in the industry. The company has over 1300 employees, and its products are sold in more than 80 countries. After 45 years in the natural products industry, NOW remains committed to its original mission – to provide value in products and services that empower people to lead healthier lives. http://www.NOWFoods.com