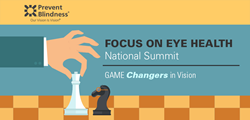 "The Focus on Eye Health Summit continues to grow into one of the premier annual vision health conferences in the country," said Hugh R. Parry, president and CEO of Prevent Blindness.
CHICAGO (PRWEB) March 18, 2015
Prevent Blindness and its partners announce the fourth annual Focus on Eye Health National Summit, to be held on Wednesday, June 17, 2015, from 8:30 a.m. to 3 p.m. at the National Press Club in Washington, D.C. The Summit will include a variety of presentations related to this year's theme, "Game Changers in Vision," featuring efforts and advances that are expected to significantly change how we think about and deliver eye care into the future.
The Summit will also highlight initial steps by the Institute of Medicine (IOM) on the development of a "Vision & Public Health" Report supported by Prevent Blindness, the Centers for Disease Control and Prevention, the National Eye Institute, and other leading eye health organizations.
Among the scheduled presentations for this year's Summit are:

The Game Changing Aspects of an Institute of Medicine Report - Rose Martinez, Director of the Board on Population Health, Institute of Medicine
Implications of Coverage and Payment for the Future of Eye Care - Susan Dentzer, Senior Policy Advisor for the Robert Wood Johnson Foundation
The Transformative Potential of Big Data - William L. Rich III, MD, Medical Director of Health Policy, American Academy of Ophthalmology
Improving Surveillance and Program Accountability for Children's Vision - Laura Anderko, PhD, RN, Associate Professor, School of Nursing and Health Studies, Georgetown University
Innovative Approaches to Research to Care - Gregory Hageman, PhD, Professor and Executive Director, Moran Eye Center, University of Utah
The Growing Impact of Telemedicine on our Approach to Vision - Jorge Cuadros, OD, PhD, Director of Informatics Research, University of California, Berkeley
From Space to Earth: Advancing Technology's Impact on Vision Care – Speakers currently being finalized
Attendees of this free event will include patient advocates, national vision and eye health organizations, government representatives, and community-based organizations. Those unable to attend in person will have an opportunity to follow the event on a live feed and/or on Twitter at #eyesummit.
Sponsorship opportunities are still available. To date, gold-level sponsors of the event include the American Academy of Ophthalmology, BrightFocus Foundation, The EyeSight Foundation of Alabama, Genentech, Lighthouse Guild International, National Center for Children's Vision and Eye Health and Regeneron. Silver-level sponsors include the Alliance for Aging Research, Alliance for Eye and Vision Research, American Public Health Association – Vision Care Section, The Association for Research in Vision and Ophthalmology, The Foundation Fighting Blindness, Liberty Sport, Lions Clubs International, Notal Vision, Research to Prevent Blindness, Vision 2020 USA, The Vision Council and VisionServe Alliance.
"The Focus on Eye Health Summit continues to grow into one of the premier annual vision health conferences in the country," said Hugh R. Parry, president and CEO of Prevent Blindness. "This success simply would not be possible without the incredible support of our attendees, presenters and sponsors. We want to extend our thanks to them and invite everyone to join us for another exciting event!"
In conjunction with the Summit, Prevent Blindness will hold the 10th annual Eyes on Capitol Hill event, bringing those directly impacted by vision loss and blindness together with their government representatives on Tuesday, June 16. A reception for the Congressional Vision Caucus (CVC) will be held the evening of this Capitol Hill event. The CVC is a bicameral and bipartisan coalition of more than 100 Congressional Members dedicated to strengthening and stimulating a national dialogue and policy on vision-related problems and disabilities. A Congressional briefing will be held on June 18.
To register or for more information about the Prevent Blindness Focus on Eye Health National Summit and sponsorship opportunities, please visit preventblindness.org/eyesummit or call (800) 331-2020.
About Prevent Blindness
Founded in 1908, Prevent Blindness is the nation's leading volunteer eye health and safety organization dedicated to fighting blindness and saving sight. Focused on promoting a continuum of vision care, Prevent Blindness touches the lives of millions of people each year through public and professional education, advocacy, certified vision screening and training, community and patient service programs and research. These services are made possible through the generous support of the American public. Together with a network of affiliates, Prevent Blindness is committed to eliminating preventable blindness in America. For more information, or to make a contribution to the sight-saving fund, call (800) 331-2020. Or, visit us on the Web at preventblindness.org or facebook.com/preventblindness.
###